Harrad Summer ** (1974, Robert Reiser, Laurie Walters, Richard Doran, Victoria Thompson) – Classic Movie Review 10,311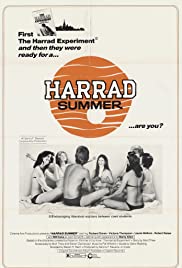 Director Steven Hilliard Stern's 1974 Harrad Summer is the surprisingly involving sequel to The Harrad Experiment (1973), in which the co-ed students at fictional Harrad College, an institution with controversial  progressive ideals, return home to practise what has been preached to them.
It stars Robert Reiser, Laurie Walters, Richard Doran and Victoria Thompson as Harrad College students Stanley, Harry, Sheila and Beth, who spend the summer together with their families.
The provocative script is quite adult and complex, reflecting the times intriguingly.
Also in the cast are Emmaline Henry, Bill Dana, Marjorie Bennett, Walter Brooke, James Beach, Angela Clarke and Marty Allen.
Fred Willard, from the original, plays the Mayor's son in Sheila's hometown, who asks her to go to Europe for Thanksgiving.
Walters and Thompson reprise their roles from The Harrad Experiment (1973), but there are no signs of Don Johnson, James Whitmore and Bruno Kirby from the first film, and Tippi Hedren's role as Margaret Tenhausen is played by Emmaline Henry, in her last film.
Sheila's house is the Harold Lloyd Estate in Beverly Hills.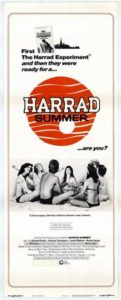 Harrad Summer is directed by Steven Hilliard Stern, runs 103 minutes, is made by Cinema Arts Productions, is released by Cinerama Releasing Corporation, is written by Mort Thaw and Steve Zacharias, based on the characters from the novel The Harrad Experiment by Robert H Rimmer, is shot by Richard H Kline, is produced by Dennis F Stevens and is scored by Patrick Williams.
© Derek Winnert 2020 Classic Movie Review 10,311
Check out more reviews on http://derekwinnert.com