Hardware *** (1990, Dylan McDermott, Stacey Travis, John Lynch) – Classic Movie Review 6407
Writer-director Richard Stanley's 1990 British cult sci-fi horror thriller is a full-blooded, full-on shocker affair, with all systems go to combat a routine, derivative tale about a killer robot terrorising the heroine Jill Grakowski (Stacey Travis).
Space marine Moses Baxter (Dylan McDermott) buys a robotic head from desert scavenger Nomad (Carl McCoy) as a Christmas present for his girlfriend Jill Grakowski, who uses it for one of her sculptures. But the robotic head reactivates, begins to rebuild itself and goes on a violent rampage in Jill's apartment.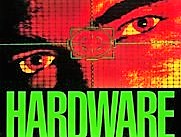 It seems to assume that it isn't important that has a routine, derivative tale. That doesn't usually work out at all well. But, unusually, this time that works out okay for it. However that is only because the movie is done with remarkable verve and brio on a low budget ($1,500,000).
Hardware provides plenty of scream-out-loud moments for those with strong stomachs and the special effects are not bad at all on an obviously small budget.
Stanley's screenplay is based on Steve MacManus and Kevin O'Neill's story SHOK!
It also co-stars John Lynch as Shades, William Hootkins as Lincoln Wineberg Jr, Iggy Pop as Angry Bob and Mark Northover as Alvy.
It is extremely violent, though it was cut in America to avoid an X rating and is rated R for strong violence, sexuality and language.
It is shot by Steven Chivers, produced by JoAnne Sellar and Paul Trijbits, scored by Simon Boswell and designed by Joseph Bennett. It is made by Palace Pictures, British Screen Productions, British Satellite Broadcasting and Wicked Films.
© Derek Winnert 2017 Classic Movie Review 6407
Check out more reviews on http://derekwinnert.com