Hard Times [The Streetfighter] **** (1975, Charles Bronson, James Coburn, Jill Ireland, Strother Martin) – Classic Movie Review 6036
Director Walter Hill's distinguished 1975 action movie is one of Charles Bronson's best films.
Bronson stars in a tailor-made, ideal role as the strong, silent type Chaney, a drifter turned bare-knuckle boxer slugging his way upwards with the help of his sharp promoter/ manager Speed (James Coburn) in illegal street fights in Great Depression Thirties New Orleans.
Hill's compelling first film is a boisterous, tough, effective picture, with punchy performances by the stars. His wife Jill Ireland (playing his love interest Lucy Simpson) co-stars with Bronson as she did so often.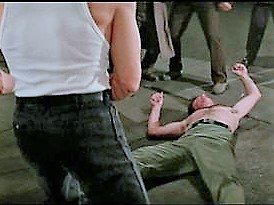 It marks the film debut of Brion James, aged 30. It also co-stars Strother Martin as Speed's returning former partner Poe, Maggie Blye [Margaret Blye] as Speed's mistress Gayleen Schoonoverh, and Bruce Glover as the dangerous loan shark Doty.
Also in the cast are Michael McGuire, Felice Orlandi, Edward Walsh, Robert Tessier, Nick Dimitri, Frank McRae, Maurice Kowalewski, Naomi Stevens, Lyla Hay Owen, John Creamer, Robert Castleberry and Becky Allen.
Walter Hill co-writes the screenplay with original story-writers Bryan Gindoff and Bruce Henstell.
A Columbia release running a taut and compact 93 minutes, it is shot by Philip H Lathrop, produced by Lawrence Gordon, scored by Barry De Vorzon and designed by Trevor Williams.
Hill acknowledged the help of cinematographer Lathrop: 'He immediately said, "Don't worry about making it look alright. We will make a film, make the shots. If you are having a problem, we will make the shots. Anything we shoot we will cut together. The problem that you're going to have is making everybody getting along and you getting what you want."'
© Derek Winnert 2017 Classic Movie Review 6036
Check out more reviews on http://derekwinnert.com