Halloween: Resurrection * (2002, Jamie Lee Curtis, Busta Rhymes, Tyra Banks, Brad Loree) – Classic Movie Review 4242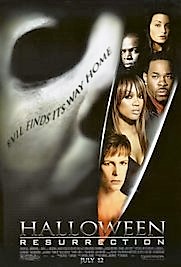 Director Rick Rosenthal's 2002 eighth Halloween movie brings Jamie Lee Curtis back as Laurie Strode (if only briefly) and reunites her with her director on Halloween 2 (1981).
This time Brad Loree plays the unstoppable killer Michael Myers, who returns to slaughter another gang of hapless teens, who foolishly go into the rundown old childhood home of Myers, this time broadcasting live on the Internet.
Busta Rhymes and Tyra Banks play DangerTainment reality programmers Freddie Harris and Nora Winston who send six thrill-seeking teens into the Myers house where cameras are placed everywhere and no one can leave.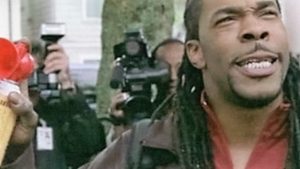 Written by Larry Brand and Sean Hood, this is a rubbishy, boring and unconvincing sequel, with some sick laughs and very little suspense. With the film's only memorable sequence the one featuring Curtis, this one should stop the series dead in its tracks.
And it did! However, there was a remake of the original Halloween (1978) in 2007 and its own sequel Halloween II in 2009. Tyler Mane plays Myers in both Rob Zombie's 2007 reboot and its subsequent sequel, becoming the first actor to play him twice.
Director Rosenthal has a cameo as Professor Mixter. Also in the cast are Bianca Kajlich, Sean Patrick Thomas, Daisy McCrackin, Katee Sackhoff, Luke Kirby, Thomas Ian Nicholas, Ryan Merriman, Billy Kay, Gus Lynch, Lorena Gale, Marisa Rudiak, Brent Chapman, Dan Joffre, Haig Sutherland, Brad Sihvon, Kelly Nielson, Garry J Tunnicliffe and Ryan McDonald.
© Derek Winnert 2016 Classic Movie Review 4242
Check out more reviews on http://derekwinnert