Halloween III: Season of the Witch *** (1983, Tom Atkins Stacey Nelkin Dan O'Herlihy) – Classic Movie Review 4232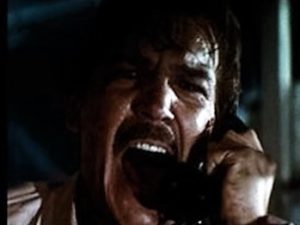 Something nasty is going on at America's Silver Shamrock Halloween Masks factory, where all the staff are Irish, and it's all due to erupt on pumpkin numpkin night.
Dan O'Herlihy stars as Silver Shamrock owner Conal Cochran, the evil genius maniacal toymaker who is plotting something foul – to restore Halloween to its witch cult origins by providing children with devilish masks – and it all degenerates into standard grisly horror. You may simply be wondering why O'Herlihy wasn't content with just making a fortune from his factory. Tom Atkins also stars as Doctor Daniel Challis, who seeks to uncover Cochran's plot.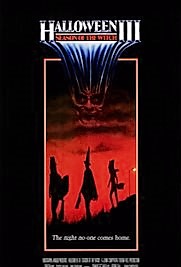 Nigel (Quatermass) Kneale's promising story bears no relation to Halloween (1978) or Halloween II but takes its inspiration from Invasion of the Body Snatchers. Alas, tampering with the script turned the toymaker into a conventional madman and Kneale removed his name from the credits.
Writer / director Tommy Lee Wallace's 1983 film is tacky and just a little bit gory, but it's also entertaining and slickly professional, thanks to producer John Carpenter, who also scores. It also features Stacey Nelkin, Ralph Strait, Michael Currie and Jadeen Barber, but alas there is no series star Jamie Lee Curtis though from the original two films.
Next up: Halloween 4: The Return of Michael Myers, directed by Dwight H Little in 1988 with Donald Pleasence and Ellie Cornell.
It was announced in 2016 that Carpenter is returning to the franchise for the first time in over 30 years to executive produce a new installment. It is his first involvement in the franchise since Halloween III. He said: 'I decided, after bitching for years and years about Halloween sequels, I would come aboard and shepherd this thing.' It is co-produced by Malek Akkad, whose father financed and produced the first eight Halloween films.
© Derek Winnert 2016 Classic Movie Review 4232
Check out more reviews on http://derekwinnert