Groundhog Day ***** (1993, Bill Murray, Andie MacDowell, Chris Elliott) – Classic Movie Review 63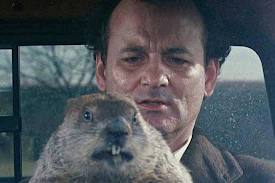 Writer-director Harold Ramis's brilliantly inventive and funny fantasy romantic comedy is a delicious 90s classic. It scored a much-deserved huge popular hit and made several critics' 1993 top tens.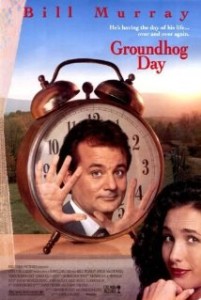 Perfectly cast, Bill Murray relishes his career-defining role as Phil Connors, a grouchy, cynical telly weather forecaster dispatched as usual from Pittsburgh with his producer Rita (Andie MacDowell) and cameraman Larry (Chris Elliot) to cover the annual Groundhog Day festival in Punxsutawney, Pennsylvania, on February 2.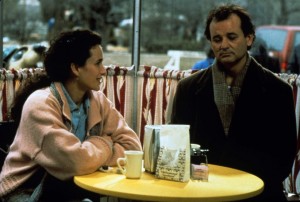 In the now blizzard-blocked town with no road or phone links, Punxsutawney Phil, the groundhog, is raised from his slumbers and, if he sees his shadow, this indicates whether the US is to have six more weeks of winter or not. Murray is not amused and just wants to get it over with and return home. But then, awoken and re-awoken in his bed and breakfast room at 6am by his alarm playing Sonny and Cher's 'I Got You Babe', Murray finds himself living the same day repeatedly in a time loop until he mends his ways and becomes a nicer bloke.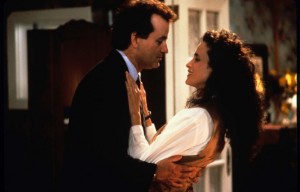 The quirky, original idea produces an endearing, first-rate romantic comedy with a heart, whose inherent charm and appeal is kicked into touch by the sweet, endearing performances of its delightful stars. Knowing a good thing when he sees it, Murray gleefully chews over and out the script's clever dialogue in a mesmerisingly funny and touching performance that paved the way for his later hits Lost in Translation and Broken Flowers.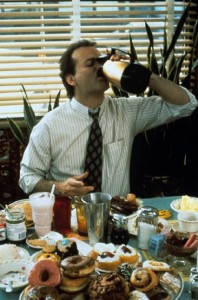 MacDowell graces the piece with all her very considerable beauty and charisma, while the character support is up to the standard of Hollywood's golden years Stephen Tobolowsky (as pestering insurance salesman Ned Ryerson), Brian Doyle-Murray (one of Bill Murray's five brothers, as one of the groundhog officials), Marita Geraghty, Angela Paton, Rick Ducommun and Rick Overton are among them. You can also spot Harold Ramis, who has a cameo as the neurologist.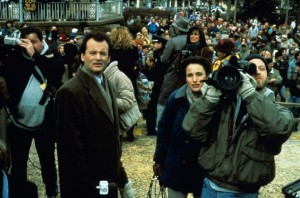 The witty script is by Harold Ramis and Danny Rubin (who wrote the original story). Unique though this seems, the simultaneously made 1993 TV movie 12:01 with Jonathan Silverman tells a similar tale and this plot had already been filmed as a 25-minute short film in 1990. Author Richard Lupoff claimed they had 'borrowed' his short story 12:01pm. Adam Sandler's  2004 film 50 First Dates owes much to Groundhog Day.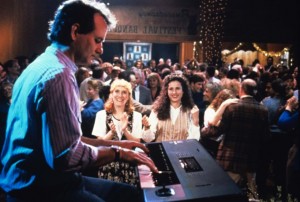 It wasn't shot in the real Punxsutawney, but in Woodstock, Illinois, 45 miles from Murray's hometown of Wilmette, where a plaque reads 'Bill Murray stepped here'. Murray (who had rabies shots after being bitten by the groundhog while filming), Tobolowsky and Ramis have been grand marshals at real Groundhog Day festivals.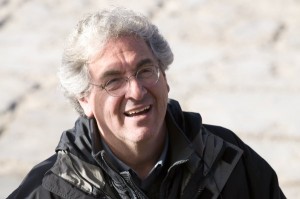 Harold Ramis died on February 24 2014 at age 69 from complications of auto-immune inflammatory vasculitis. He wrote the screenplays of Animal House, Ghostbusters, Analyze This, Analyze That and Bedazzled.
http://derekwinnert.com/animal-house-classic-film-review-50/
http://derekwinnert.com/analyze-this-classic-film-review-345/
© Derek Winnert 2013 Classic Movie Review 63
Check out more reviews on http://derekwinnert.com/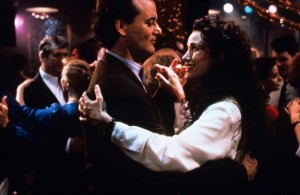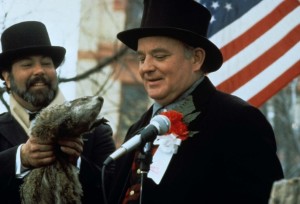 Brian Doyle-Murray and friend.