Gremlins 2: The New Batch **** (1990, Zach Galligan, Phoebe Cates, John Glover, Robert Prosky, Christopher Lee, Dick Miller, Keye Luke) – Classic Movie Review 551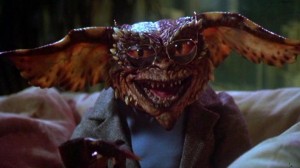 It's 1990 and six years after the first Gremlins movie, and Zach Galligan and Phoebe Cates are back as nice young sweethearts Billy Peltzer and Kate Beringer. They are soon reunited with their cute mogwai furry friend Gizmo (voice of Howie Mandel), last seen in the care of Mr Wing (Keye Luke), in the futuristic skyscraper office building where they now work in Manhattan.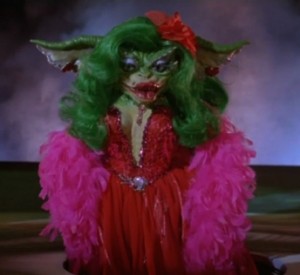 Remember, there are three all-important rules with Gizmo: 1. Don't get it wet. 2. Don't let it in sunlight or bright light. 3. Don't feed it after midnight. But, almost immediately, the janitor there at the building accidentally pours water over Gizmo, spawning a new gaggle of Gremlins bent on mass destruction.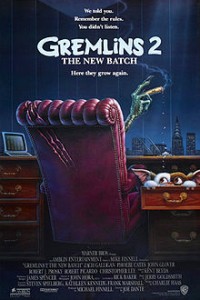 Returning to the scene of his 1984 triumph, director Joe Dante delivers a sharp and funny sequel that comes very near to the high standard of the brilliant vicious fun of part one. Dante ensures that this is a special treat for all fans of the original and especially film buffs with Rick Baker's great Gremlins special effects and hugely entertaining performances and cameos.
There are hilarious appearances from old-time character actors (Robert Prosky as Grandpa Fred, Dick Miller as Murray Futterman, Kathleen Freeman as Microwave Marge!) and guest stars, all clearly enjoying themselves, notably the esteemed Christophers Walken and Lee, the latter fittingly cast as Doctor Catheter, the mad scientist whose henchmen capture Gizmo for sinister research.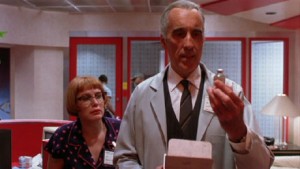 With a new writer aboard in Charles S Haas (replacing Chris Columbus, who is credited only for the characters), there is basically no story. But instead there is a non-stop supply of deliciously malicious mayhem , endless gags, both witty and silly, and a cornucopia of movie references.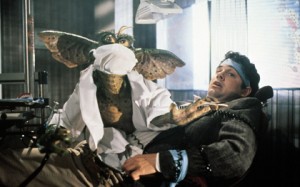 Children's author Roald Dahl appears in a cameo: he invented the word Gremlins (midgets who lived in fighter planes, causing them to fail) in World War Two. They even hired US film critic Leonard Maltin so he couldn't give them a bad review!  He repeats his shameful condemnation of Part 1 before receiving his due comeuppance.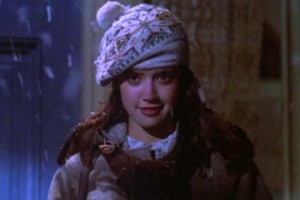 But, despite all the good, fun work, Gremlins 2 didn't prove a big hit and sadly no part 3 followed. But in 2013 a reboot is in the pipeline.
http://derekwinnert.com/gremlins-classic-film-review-64/
© Derek Winnert 2013 Classic Film Review 551 derekwinnert.com