Gray Lady Down ** (1978, Charlton Heston, David Carradine Stacy Keach, Ned Beatty, Stephen McHattie, Ronny Cox) – Classic Movie Review 6259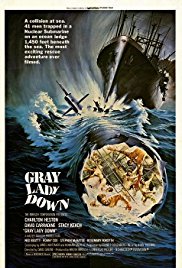 'Trapped underwater… with time running out.' Charlton Heston stars in director David Greene's sombre 1978 action adventure disaster movie as a US Navy Captain called Paul Blanchard, whose nuclear submarine The USS Neptune has collided with a Norwegian cargo freighter.
The Neptune has sunk off the coast of Connecticut and is stuck on an underwater ocean ledge but is falling off the ridge. The question is, will the rescue operation be in time?
David Carradine plays the US Navy officer misfit Captain Gates, who runs the small experimental submersible Snark which is brought in as the only hope to reach the nuclear submarine for a rescue.
Disaster movie veteran Heston brings his solid persona of authority and respectability, Stacy Keach plays Captain Bennett, the commander of the US Navy rescue force, and a young, pre-Superman Christopher Reeve (in his feature film debut) is one of the officers, Phillips.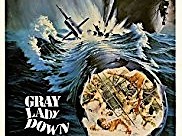 Greene's capable direction, the performances, Stevan Larner's excellent Technicolor cinematography and the good special effects combine to help to keep the leaky movie afloat.
Also in the good cast are Ned Beatty, Stephen McHattie, Ronny Cox, Dorian Harewood and Rosemary Forsyth, Hilly Hicks, Charles Cioffi, Jack Rader, Michael O'Keefe, William Jordan and Charles Robinson.
It is written by James Whittaker and Howard Sackler, based on David Lavallee's 1971 novel Event 1000, produced by Walter Mirisch and scored by Jerry Fielding.
© Derek Winnert 2017 Classic Movie Review 6259
Check out more reviews on http://derekwinnert.com