Gran Torino ****½ (2008, Clint Eastwood, Bee Vang, Christopher Carley, Ahney Her) – Classic Movie Review 4322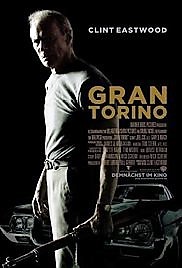 For his first acting role since his 2004 four-Oscar-winning triumph Million Dollar Baby, director Clint Eastwood gives himself a perfectly tailor-made role in 2008 as Polish American Walt Kowalski, a newly widowed old guy in Michigan, where everything has changed. The kids give you no respect, nobody looks after their house and all the neighbours aren't white anymore.
Kowalski's late wife has made their priest Father Janovich (Christopher Carley) promise to make him say confession, but the old man thinks that he is just a dumb kid. Then the next-door neighbours' 15-year-old son Thao (Bee Vang) breaks into Kowalski's garage to steal his treasured 1972 Gran Torino car. The boy is from the Asian Hmong people who have sought political asylum in the United States.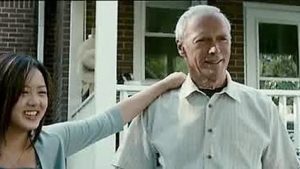 At first, Kowalski treats his neighbours with some contempt but later he comes to respect and admire them – and love both the boy, whom he teaches, and his feisty sister Sue (Ahney Her). And so, the teen's break-in sets off an increasingly funny and touching series of events that lead Kowalski to think again about his family, his Korean War service, his racism, his life and impending death and even his soul. There is prejudice everywhere – Kowalski is despised as old – but it can be dealt with and overcome.
Jolly good stuff, this, extracting lots of expert humour and thoughtful intelligence from a basically tragic and depressing situation. Eastwood directs his polished movie – a thriller with a brain – with his now customary flair and style and it is all quite haunting, staying with you long after he has croaked a terrible song at the end of the movie (the film's one mistake!).
There were no awards this time, not even a single Oscar or Bafta nomination – but, hey, what do they know? However, there was a Golden Globe Best Original Song nomination for Eastwood and Jamie Cullum's awful song 'Gran Torino'. And the American Film Institute voted it their Movie of the Year as 'a cultural landmark in the grand and glorious career of an American master.'
Also in the cast are Brian Haley, Geraldine Hughes, Dreama Walker, Brian Howe, John Carroll Lynch, William Hill, Brooke Chia Thao, Chee Thao, Choua Kue and Scott Eastwood (billed as Scott Reeves).
Clint Eastwood's next film as actor is Trouble with the Curve (2012).
© Derek Winnert 2016 Classic Movie Review 4322
Check out more reviews on http://derekwinnert.com