Grace Quigley *** (1984, Katharine Hepburn, Nick Nolte) – Classic Movie Review 4086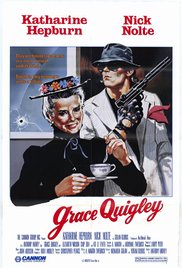 Director Anthony Harvey's 1984 movie is a provocative, intentionally weird and deliberately unpleasant black comedy vehicle for Katharine Hepburn as old New York widow Grace Quigley who blackmails top hit-man Seymour Flint (Nick Nolte) into killing her and her friends, who are tired of life.
It was unveiled at the Cannes Film Festival in 1984 at 102 minutes, where it received unanimous negative reviews, and was then cut for US release to 87 minutes.
[Spoiler alert] The original ending had Flint drowning in an attempt to save Grace's life when she walks into the ocean. But with the producers concerned about the dark and depressing tone after negative reactions from preview audiences, a jarring happy ending has been tagged on.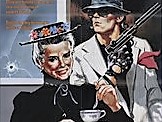 But there is also another version of the film, the 'Writer's Cut', called The Ultimate Solution of Grace Quigley, assembled by the writer A Martin Zweiback, which is still odd but works much better, with the original black ending. In 2006, the New York International Independent Film and Video Festival awarded Zweiback the Best Screenplay Award for this version.
At any rate, at the very least it is a commendably different personal project for Hepburn who had been trying to get it made for 12 years after seeing the script in 1972, and finally found unlikely allies to finance the picture in Golan and Globus at Cannon Films. And Hepburn and Nolte are always worth the price of admission, and they are on good, zestful form here. Despite the controversial humorous treatment of the serious subject of voluntary euthanasia of old people, it is a bold and intriguing black comedy.
It is Walter Abel's last film, at the age of 86, as Homer Morrison. Also in the cast are Elizabeth Wilson, Chip Zuen and William Duell, and 'introducing' Kit Le Fever.
During filming, Hepburn crashed her car into a tree and fractured her ankle. Steve McQueen was the original choice as the hitman.
Harvey and Hepburn also made The Lion in Winter (1968), The Glass Menagerie (1973) and This Can't Be Love (1994) together.
© Derek Winnert 2016 Classic Movie Review 4086
Check out more reviews on http://derekwinnert