Goodbye, Mr Chips **** (1939, Robert Donat, Greer Garson, Paul Henreid, Lyn Harding, Austin Trevor, Terry Kilburn, John Mills) – Classic Movie Review 4140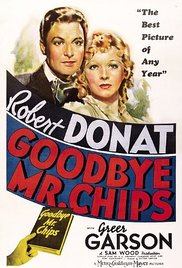 Director Sam Wood's vintage 1939 drama puts the spotlight on Robert Donat, who won the Best Actor Oscar for his masterly portrayal of a prim and proper classics teacher at a boys' boarding school, who spends his dull life with the boys until the handsome Katherine (Greer Garson in her first film) coaxes him into real living. The old teacher and former headmaster Mr Chips (full name Charles Edward Chipping) looks back over his long career, recalling pupils and teachers, and the courtship and marriage that changed his life.
The screenplay by R C Sherriff, Claudine West and Eric Maschwitz provides a schmaltzy and nostalgic but very touching stroll through James Hilton's 1934 novella, taking the quaint pedagogue from timid youth to doddery, respected old age via the Boer War and the First World War.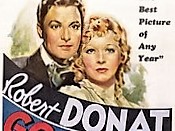 Wood's slightly faded film feels overlong at 114 minutes and seems a shade creaky and musty nowadays, and the movie's handling is dated by today's standards. But the electrifying  power of the story, dialogue and performances still shines brightly and superbly through.
It was made in England at Denham Studios, and produced by the British division of MGM. It still has currency as it was voted the 72nd greatest British film ever in the BFI's Top Hundred British Films poll.
Also in the cast are Paul Henreid, Lyn Harding, Austin Trevor, Terry Kilburn, John Mills, Milton Rosmer, Judith Furse, Frederick Leister, Louise Hampton, David Tree, Edmund Breon. Guy Middleton, Nigel Stock, Scott Sunderland, Ronald Ward, Patrick Ludlow, Simon Lack, Caven Watson, Cyril Raymond, John Longden and Jill Furse.
It was remade as the musical Goodbye, Mr Chips by Herbert Ross in 1969.
© Derek Winnert 2016 Classic Movie Review 4140
Check out more reviews on http://derekwinnert