Goldstone *** (2016, Alex Russell, Aaron Pedersen, David Wenham, Jacki Weaver) – Movie Review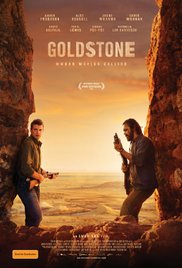 Alex Russell stars as Josh, a young eager-beaver cop, laidback in the Outback, who arrests a drunken driver and takes him to jail. He turns out to be Aboriginal Detective Jay Swan, played by the film's other star Aaron Pedersen, who arrives in the frontier town of Goldstone on a missing persons enquiry, investigating a Chinese girl's disappearance.
While Russell and Pedersen make sterling work of the twin heroes who of course eventually have to bury the hatchet to work together, David Wenham and Jacki Weaver make a grand job of the film's two villains, businessman Johnny and the town mayor Maureen, spinners of a tangled web of crime and corruption.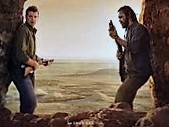 It is tense and flavourful, with a slight serious minded spin that doesn't spoil it as a thriller. Indeed thrills are taken care of, especially in a super-bristling ending. Though not entirely memorable, and with a score that needs a retune, this is a good and involving, even quite exciting film, a feather in the cap for writer-director Ivan Sen. It is a sequel to Sen's 2013 Mystery Road (also with Pedersen as Swan), which is referenced in this film.
Russell plays Billy Nolan in the remake of Carrie.
© Derek Winnert 2016 Movie Review
Check out more reviews on http://derekwinnert.com