Goldfinger ***** (1964, Sean Connery, Gert Fröbe, Honor Blackman, Shirley Eaton, Harold Sakata, Bernard Lee, Lois Maxwell, Desmond Llewelyn) – Classic Movie Review 403
'My name is Pussy Galore'. – Pussy Galore.
'I must be dreaming'. – James Bond.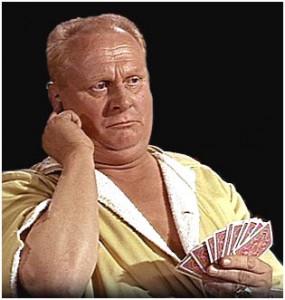 German star Gert Frobe (1913-88) proves as ideal a villain as Auric Goldfinger as Sean Connery is a hero as James Bond in the third 007 movie, an exciting, top-of-the-range spy fantasy thriller from 1964.
Apart from the awful Carry On-style jokes like 'shocking' and 'he blew a fuse', there is a witty Swinging Sixties screenplay too, again by Richard Maibaum, who scripted Dr No (1962) and From Russia with Love (1963), this time writing with Paul Dehn.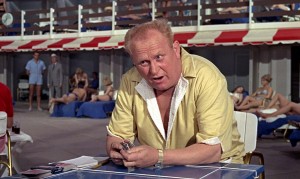 Gold-obsessed magnate and smuggler Goldfinger wants to break into the Fort Knox gold reserve with his henchman Oddjob and pinch all the gold, thus endangering the world economy. But of course 007 Connery is on the case, investigates, uncovers the plot and has to stop him. So his next mission takes him to Goldfinger's lair then on to Kentucky.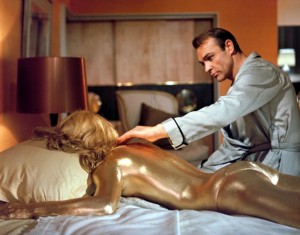 In her finest hour, Shirley Eaton gets smothered to death covered with gold paint from head to toe all too early on in the movie. She plays Jill Masterson, Goldfinger's paid companion and spy. Tania Mallet plays her sister Tilly, so bent on avenging Jill's death that she nearly shoots Bond instead.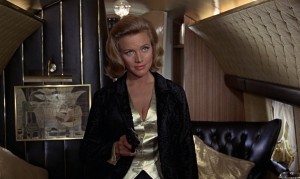 Honor Blackman is promoted from Cathy Gale in TV's The Avengers to be kinky judo expert Pussy Galore, a strange kind of woman who doesn't seem to have feelings for Bond, who looks upon her as a challenge and tries to help her change her mind.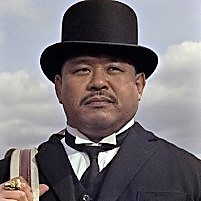 Harold Sakata is Oddjob the man with the killer hat, while Desmond Llewelyn, Bernard Lee and Lois Maxwell are all back as Q, M and Miss Moneypenny, making the world seem a better, safer place. It is a fine bunch of performers all round.
Then the producers Harry Saltzman and Albert R Broccoli have come up with big budget wisely spent on an impressive production that includes a huge replica of Fort Knox and other impressive sets dreamt up by magic production designer Ken Adam. This is a particularly good-looking Bond film.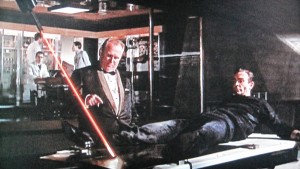 Shirley Bassey's inimitable voice luxuriates memorably over the title song (lyrics by Leslie Bricusse and Anthony Newley), which is surely the best in any Bond movie. That adds enormously to its vintage appeal and so do John Barry's music and the entertainingly fun credits by Robert Brownjohn.
Goldfinger is arguably as least as good as its predecessor From Russia with Love (1963). It is just a superlative, glossy escapist thrill ride, and the passage of time has been kind to it, merely adding more allure. All in all, with fired-up direction by Guy Hamilton, it is the classic 007 mixture, cemented by the charisma of a callow Connery, who is so much more than the all-purpose, invincible hero, several times showing a vulnerable side to Bond's character.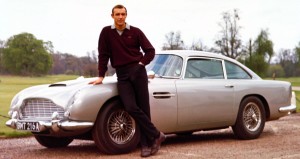 It is supposedly remotely based on Ian Fleming's novel Goldfinger (1959) but the writers have not used much more than the title and title character. Bond: 'Do you expect me to talk?' Goldfinger, threatening to roast Bond's chestnuts with a laser: 'No Mr Bond. I expect you to die.'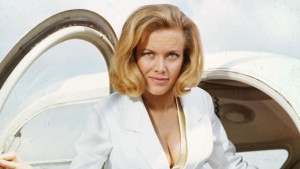 Also in the cast are Martin Benson, Cec Linder, Bill Nagy, Richard Vernon, Bert Kwouk, Nadja Regin, John McLaren, Margaret Nolan, Victor Brooks, Austin Willis, Lenny Rabin, Hal Galili, Michael Mellinger, Peter Cranwell, Nadja Regin, Mai Ling, Varley Thomas, Robert MacLeod, Alf Joint, Gerry Duggan, Marian Collins, George Leech, Garry Marshall, Tricia Muller, Janette Rowsell, Michael G Wilson, Maggie Wright, Raymond Young and Paul Carpenter uncredited as the American General.
The sell line from the poster goes: 'Everything he touches turns to excitement!'
It won one Oscar, for Best Sound Effects Editing (Norman Wanstall).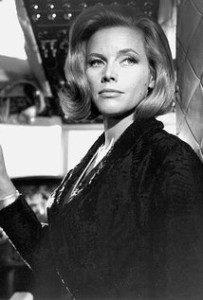 Honor Blackman was 90 on 22 August 2015. She made her film debut in the non-speaking part of Emma in Fame Is the Spur (1947). Sean Connery was 85 on 25 August 2015.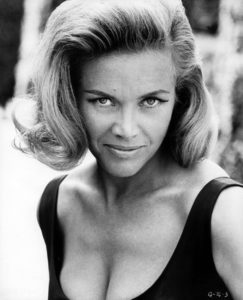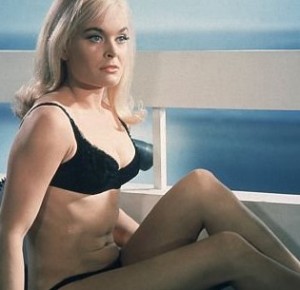 Shirley Eaton, for ever Jill Masterson in Goldfinger (1964), celebrated her 80th birthday on 12 January 2017. She was also in Doctor in the House (1954), The Love Match (1955), Panic in the Parlor (1956), Three Men in a Boat (1956), Your Past Is Showing (1957), Doctor at Large (1957), Carry On Sergeant (1958), Carry On Nurse (1959), Ten Little Indians (1965) and The Blood of Fu Manchu (1968).
http://derekwinnert.com/the-love-match-1955-arthur-askey-glenn-melvyn-thora-hird-shirley-eaton-james-kenney-robb-wilton-classic-movie-review-3259/
http://derekwinnert.com/from-russia-with-love-classic-film-review-402/
© Derek Winnert 2013 Classic Movie Review 403
Check out more reviews on http://derekwinnert.com/