Gold Diggers of 1933 ***** (1933, Warren William, Joan Blondell, Aline MacMahon Ruby Keeler, Dick Powell, Guy Kibbee, Ned Sparks, Ginger Rogers) – Classic Movie Review 5892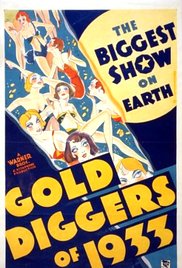 Joan Blondell, Ruby Keeler and Aline MacMahon star as Broadway babies, Carol, Polly and Trixie, chorus girls gold digging for rich husbands, in this spectacular 1933 Busby Berkeley backstage dance musical movie from Warner Bros.
Avery Hopwood's play The Gold Diggers had already been filmed in 1929 as Gold Diggers of Broadway, but the familiar Broadway show plot is still very fresh and serviceable. And the performances by Blondell, Keeler, MacMahon and Ginger Rogers, and Warren William, Dick Powell and Guy Kibbee are all delicious.
However, it is Berkeley's stunning, innocently vulgar geometric choreography that makes the movie so memorable. It is a funny, richly entertaining and rewarding vintage show.
The musical highlights include Blondell's 'My Forgotten Man', Rogers's 'We're in the Money', 'Pettin' in the Park' and 'Shadow Waltz', all of them gems.
Also in the cast are Ned Sparks, Clarence Nordstrom, Sterling Holloway, Joan Barclay, Billy Barty, Hobart Cavanaugh, Ferdinad Gottschalk, Muriel Gordon, Wilbur Mack, Frank Mills, Charles Lane, Fred Kelsey, Grace Hayle, Sam Godfrey, Fred Toones, Charles C Wilson, Jack Wise, Tammany Young and Dennis O'Keefe.
It is written by Erwin S Gelsey, James Seymour, David Boehm and Ben Markson, shot in black and white by Sol Polito, and produced by Jack L Warner and Robert Lord.
Gold Diggers of 1935 and Gold Diggers of 1937 followed, with more of the same in 1938's Gold Diggers in Paris and the 1951 Painting the Clouds with Sunshine. Footlight Parade (1933), Dames (1934) and 42nd Street (1933) are in similar spirit.
© Derek Winnert 2017 Classic Movie Review 5892
Check out more reviews on http://derekwinnert.com