Going in Style **** (1979, George Burns, Art Carney, Lee Strasberg) – Classic Movie Review 5269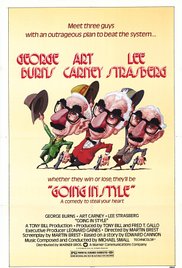 The 20something Martin Brest directs eminent seniors George Burns, Art Carney and Lee Strasberg as three bored golden oldies living on the dole, Joe, All and Willie, who plan and carry out a Queens, New York, bank heist in this amusing and touching comedy thriller.
The three reliable old scene-stealers produce top-flight, guaranteed entertainment, while the 27-year-old Brest (Meet Joe Black, Midnight Run, Beverly Hills Cop, Scent of a Woman) provides an excellent screenplay, based on a story by Edward Cannon, and is already very secure at the directorial helm.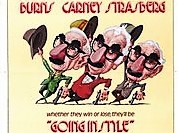 Also in the cast are Charles Hallahan, Pamela Payton-Wright, Siobhan Keegan, Brian Neville, Mary Testa, Jean Shevlin, James Manis, Tito Goya and William Pabst.
Burns told Brest he had 'neckties older than him'.
It is remade as Going in Style in 2017.
The fiasco of Gigli put a stop to Brest's career.
© Derek Winnert 2017 Classic Movie Review 5269
Check out more reviews on http://derekwinnert.com