Gog *** (1954, Richard Egan, Constance Dowling, Herbert Marshall) – Classic Movie Review 9556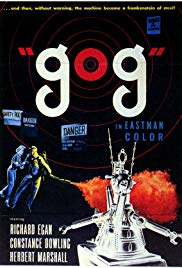 'Built to serve man… it could think a thousand times faster! move a thousand times faster! kill a thousand times faster…Then suddenly it became a Frankenstein of steel!'
Producer Ivan Tors provides the story for the 3D sci-fi horror Gog (1954) about communist spies seizing a supercomputer controlling two robots, Gog and Magog, who they reprogramme to kill scientists.
Herbert Marshall stars as Dr Van Ness, a scientist who gets jolly upset when they rampage all over his lab. Richard Egan also stars as Dr David Sheppard, the man from the Office of Scientific Investigation who looks into it all.
But the 3D and colour filming and the cute robots are the real stars of director Herbert B Strock's efficient, rather jolly 1954 fantasy film that should keep kindly and tolerant Fifties sci-fi buff viewers just a little agog.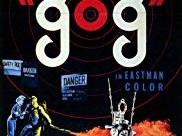 It is the third film in producer Ivan Tors's Office of Scientific Investigation trilogy, following The Magnetic Monster (1953) and Riders to the Stars (1954).
With a bit of a boost in the budget, it was filmed in Natural Vision 3D, Color Corporation of America colour, and widescreen. But, though it was shot in colour, most American TV prints are in black and white. As it was released at the end of the first 3D fad, it was often projected flat and also not widescreen.
Also in the cast are Constance Dowling, Herbert Marshall, John Wengraf, Philip Van Zandt, Valerie Vernon, Steve Roberts, Byron Kane, David Alpert, Michael Fox, William Schallert, Marian Richman, Jeanne Dean, Tom Daly, Alex Jackson, Patti Taylor, Baverly Jocher, Aline Towne, Al Bayer, Andy Andrews and Julian Ludwig.
Gog is directed by Herbert B Strock, runs 82 minutes, is made by Ivan Tors Productions, is released by United Artists, is written by Tom Taggart and Richard G Taylor, is shot in Color Corporation of America colour [Eastmancolor] by Lothrop B Worth, is produced by Ivan Tors and Maxwell Smith, is scored by Harry Sukman and is designed by William Ferrari.
It was filmed in just 15 days on two sets at Hal Roach Studios and at the former military outpost George Air Force Base, near Victorville, California.
After this, Dowling married Tors and retired from acting. William Schallert here makes his debut in sci-fi films.
© Derek Winnert 2020 Classic Movie Review 9556
Check out more reviews on http://derekwinnert.com