Gladiator ***** (2000, Russell Crowe, Joaquin Phoenix, Oliver Reed, Richard Harris, Connie Nielsen) – Classic Movie Review 166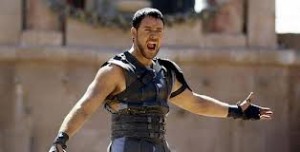 Best-actor Academy Award winner Russell Crowe powers this brilliant five-Oscar-winning Roman epic, a real man's man movie. Ridley Scott's astounding gladiator movie won the 2001 Best Picture award at the Oscars. A glorious throwback to the popular epics of the 50s and 60s and even as far off to the days of silent movies, Gladiator shows they can make them like they used. Better, actually.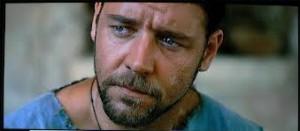 Expectedly grim and tough but also surprisingly sympathetic, Crowe is at his absolute best here as the wronged Roman General Maximus, who's betrayed and sold into slavery but becomes Rome's gladiator number one.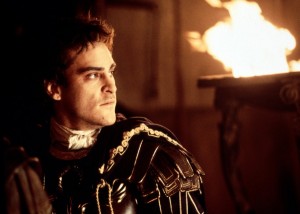 A triumphant Joaquin Phoenix relishes his splendidly decadent turn as the lip-smackingly corrupt Emperor Commodus, who kills his own dad, the decent Emperor Marcus Aurelius (Richard Harris), to assume power.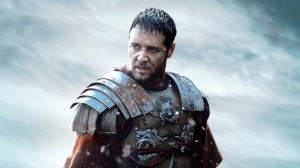 If he can only break free, Crowe's Maximus vows revenge on that evil emperor responsible for betraying him, killing his family, stripping him of his rank and selling him into slavery. Wow, there's a whole lot of payback needed. When in Rome, do as the Romans do. Vendetta!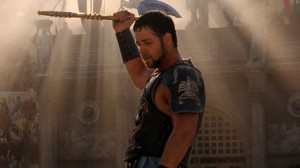 Keeping a commanding, vice-like control over all the details of a tricky project, Ridley Scott's direction is wonderfully taut and tense. The Oscar-winning visual effects are just brilliant, so brilliant in fact that you really can believe you're seeing pictures of life of Rome at its height. With astonishing sets and F/X, the re-creation of the Coliseum is especially incredible.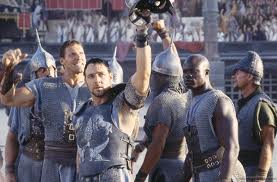 John Mathieson is outstanding, Arthur Max's art direction amazing and Janty Yates's costume design sums up the era. And Hans Zimmer's score pounds it all along resoundingly. Nobody snoozes while Zimmer composes!
Of course it helps enormously that there's a very workable, literate and intelligent screenplay (by David H Franzoni, who wrote the original story and produces, as well as by John Logan and William Nicholson). It's not maybe so difficult to come up with a serviceable plot for a gladiator movie but it's really hard to write convincing dialogue for one, and these guys certainly have here.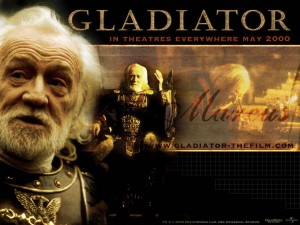 The ensemble cast is just right and they respond with superb acting. Harris (who died in 2002) is very good indeed, so is David Hemmings (who died in 2003) as Cassius, and, as the slave owner Proximo who takes on Maximus, Oliver Reed is smashing in his final performance. Though he died at 61 of a heart attack while filming in Valletta, Malta, three weeks before the part was complete, they've managed to create a whole role through the use of visual effects and acting doubles. How we miss all three of these old-time Brit thesps!
Winner of the Oscars for best picture, actor (Russell Crowe), visual effects, costume design, sound, and there were seven other nominations.
Trying to outdo Gladiator, Scott returns to the epic with Exodus: Gods and Kings in 2014.
http://derekwinnert.com/exodus-gods-and-kings-%c2%bd-2014-christian-bale-joel-edgerton-ben-kingsley-john-turturro-movie-review/
© Derek Winnert 2013 Classic Movie Review 166
Check out more reviews on http://derekwinnert.com/