Girls Trip *** (2017, Regina Hall, Queen Latifah, Jada Pinkett Smith, Tiffany Haddish) – Movie Review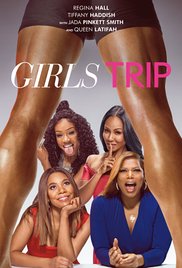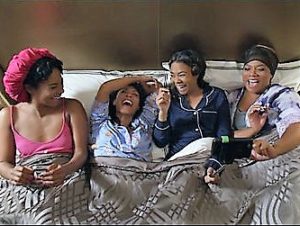 Regina Hall, Queen Latifah, Jada Pinkett Smith, and Tiffany Haddish star as lifelong friends who re-form their old sisterhood crew and go to New Orleans for the annual Essence Festival.
A Girls Trip to the wild side follows, with sex, drugs, rock 'n roll, dancing, drinking, brawling, and romancing, just as advertised, just what you'd expect. Apparently, girls just wanna have fun, however old they get, and that's lucky because so do we movie-goers.
Girls Trip is raw, rude, rumbustious, with uncontrollably exuberant performances and an over-the-top unruly script to match. It is very loud, very crude, very vulgar – sometimes filthy – and very relentless. There are a couple of American Pie-worthy gross-out scenes that had the audience in stitches, though they are really quite shameful and embarrassing.
It is a sort of chick flick, so men might well want to handle it with care. Larenz Tate gets to play the film's one sympathetic male, Julian, and he's as sweet and soft as his character name, providing a (sort of) love interest for the married Ryan Pierce (Hall) who is having man troubles with her straying husband Stewart (Mike Colter), also her TV host business partner. Stewart is demonised as a, no doubt, typical man, duplicitous and unworthy of any woman.
The boisterous – or should that be girlsterous? – performing is non-stop full-on, like the film, for over two hours (that's way long for a comedy, though well sustained), all of the players scoring in their different ways. They are quite a mismatched bunch of actors, but they gel well, and skilfully. The least well known of the quartet, Tiffany Haddish is an appalling loud mouth, but sometimes really funny.
All four are funny but also actually quite scary, particularly the 5′ 10″ Latifah, though height isn't everything, Smith is a real buzz-off broad too at only 5′. It is a real surprise that the serious-seeming Smith turns out to be a funny person. Latifah is always welcome and good value in movies, here playing a media gal Sasha, trading grubbily in stars' secrets on her showbiz website. Hall is funny when she's allowed to be, but gets the fewest funny lines and, as the main star, has most of the (somewhat tedious) romantic drama to play, again skillfully.
The film and the performers emerge unscathed from this Girls Trip, with at least some of their dignity intact. Kenya Barris and Tracy Oliver's screenplay is surprisingly inventive and hilarious, especially as the basic situation is fairly stale, and it's right that they just don't know when and where to stop in their search for laughs – because that's what gets them their big guffaws.
The only thing is though, when the script tries to get deep, it gets real shallow. It should have stopped short at the sisterhood and life philosophising, the religious interlude and maybe some of the man hating. OK, we get it hoes before bros, thanks girls, and goodnight now.
I just about emerge unscathed from Girls Trip too, but I felt it was a close thing. It isn't a great contribution to peace and harmony, or the friendly relations between men and women. It really does suppose, and motor on the whole idea, that men and women are different species, one from Mars and one from Venus. The women in the audience, that is most of the audience of course, were really polite and well behaved though. Again, thanks girls.
It is R rated for crude, sexual content, strong language, brief graphic nudity, and drug taking. Just for the record, writer Kenya Barris and director Malcolm D Lee are both male.
© Derek Winnert 2016 Movie Review
Check out more reviews on http://derekwinnert.com