Gift of Gab *** (1934, Edmund Lowe, Gloria Stuart, Ruth Etting, Ethel Waters, Victor Moore, Boris Karloff, Bela Lugosi) – Classic Movie Review 5632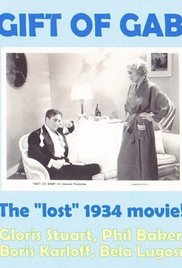 Director Karl Freund's 1934 comedy musical stars Edmund Lowe as obnoxiously conceited radio announcer personality Phillip Gabney, a man with the Gift of Gab — he can sell anyone anything — who annoys everyone else at his radio station.
He tries to make up for faking a broadcast interview by attempting to reach the survivors of an air crash in a remote forest during a live transmission, seeking to win back the heroine Barbara Kelton (played by Gloria Stuart) by announcing the plane's location.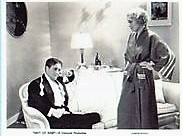 Written by Rian James and Lou Breslow, Universal's show is commendably most peculiar, and rather sprightly and nimble Thirties film musical, with doses of comedy and melodrama thrown in for good measure. This formerly 'lost' film is now found.
The star cameo appearance of Ruth Etting as herself and the star-spotting of the famous guests are now among the film's many vintage pleasures, particularly the unexpected cameo appearances of horror icons Boris Karloff (as The Phantom) and Bela Lugosi (as a French Apache dancer), as well as Alexander Woollcott. They are among half a dozen stars who appear in a burlesque murder mystery sketch 46 minutes in, supposedly conceived by Gabney, as murder victim Paul Lukas lies on the floor as The Corpse, maid Binnie Barnes screams, and detectives Chester Morris and Roger Pryor search for clues. The movie has very considerable nostalgia value.
Also in the cast are Phil Baker as absent-minded doctor, Ethel Waters as herself, Alice White as Margot, Victor Moore as station owner Colonel Trivers, Hugh O'Connell as Patsy, Helen Vinson as nurse, Gene Austin as radio artist, Tom Hanlon as radio announcer, Henry Armetta as the janitor, Andy Devine as McDougal the waiter, Sterling Holloway as an incompetent sound effects man, and Wini Shaw as cabaret singer.
Etting sings 'Talking to Myself' and 'Tomorrow, Who Cares?', Ethel Waters sings 'I ain't gonna sin no more', and other songs include 'Gift of Gab' (by Herb Magidson, Con Conrad), 'Somebody Looks Good', and 'Walkin' on Air'.
The Three Stooges were to appear in the film, but signed with Columbia Pictures instead, so three look-alike actors (Sid Walker, Jack Harling, and John 'Skins' Miller) replaced them!
Alas, Karloff and Lugosi don't appear together and are on screen just for a few seconds. Lugosi is hiding in a closet and asks 'what time is it?', while Karloff's Phantom climbs in through a window and laughs menacingly as he checks a number in the corpse's black book.
Freund also directed Karloff in The Mummy (1932).
Radio personality Lowe also made more than 100 films as leading man.
© Derek Winnert 2017 Classic Movie Review 5632
Check out more reviews on http://derekwinnert.com