Gideon of Scotland Yard [Gideon's Day] ***½ (1958, Jack Hawkins, Dianne Foster, Anna Lee, Andrew Ray, Anna Massey, Frank Lawton, John Loder, Cyril Cusack, Derek Bond) – Classic Movie Review 5152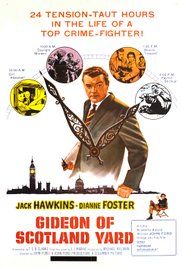 Producer-director John Ford's engrossing and compelling 1958 British thriller stars an ideally cast Jack Hawkins harassed plain-clothes inspector, George Gideon of Scotland Yard, who is having quite a busy 24 hours.
Gideon deals with the alleged bribery of his sergeant, followed by his death, a crazed murderer, a theft from a safe, being shot by a robber and general chaotic madness in cases that are bookended by getting a traffic ticket from a young policeman who turns out to have a date with his daughter.
Making a good copper as he did in The Long Arm (1956), Hawkins is authoritative and commanding in this homely, entertaining thriller, very well stocked with British stalwart actors. It is lensed by ace cinematographer Freddie Young in lovely Technicolor and with a craftily written screenplay by expert writer T E B Clarke, based on John Creasey's novel Gideon's Day, with its serious elements touched with wry humour.
It is directed, astonishingly, by John Ford, over in England at the MGM British Studios, in Borehamwood, Hertfordshire. And, in one way, it is all very humdrum for the great director away from his turf, but in a good way. Its humble, understated modesty proves a virtue.
Beware the cut black and white US theatrical release print. The original British title of Gideon's Day follows the book's name.
It also features  Dianne Foster, Anna Lee as Mrs Gideon, Andrew Ray as PC Farnaby Green, Anna Massey as Sally Gideon, Frank Lawton, John Loder, Cyril Cusack, Derek Bond as Sgt Kirby, James Hayter, Ronald Howard, Howard Marion-Crawford as The Chief, Laurence Naismith, Griselda Harvey, Marjorie Rhodes, Hermione Bell, Michael Trubshawe, Jack Watling, Henry Longhurst, Michael Shepley, Nigel Fitzgerald, Robert Raglan, Miles Malleson, Donal Donnelly, Billie Whitelaw, Barry Keegan, John le Mesurier and Robert Bruce.
© Derek Winnert 2017 Classic Movie Review 5152
Check out more reviews on http://derekwinnert.com