Ghostbusters ** (2016, Melissa McCarthy, Kristen Wiig, Kate McKinnon, Leslie Jones, Chris Hemsworth) – Movie Review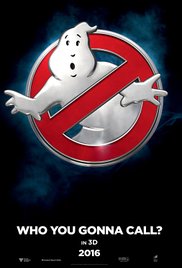 Based on Ivan Reitman's 1984 classic Ghostbusters, written by Dan Aykroyd and Harold Ramis, co-writer / director Paul Feig's 2016 remake is two hours of patchy effects-driven comedy. Melissa McCarthy, Kristen Wiig, Kate McKinnon and Leslie Jones star as a middle-aged female team, who form a paranormal company to catch ghosts to save New York City, employ a dumb blond male secretary (Chris Hemsworth) and get dubbed Ghostbusters by the media.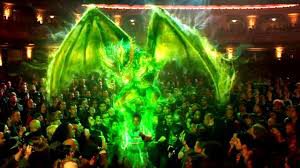 The mechanical re-cycled screenplay by Feig and Katie Dippold lacks freshness, invention and wit, and resorts to lowest common denominator humour, including lazy fart jokes and crude gags. There is no real sense of fun and joie de vivre (or joie de morts vivants). [Joy of the Living Dead, now that's not a bad title!] But, nevertheless, it is confident and bright, with its share of chuckles, some funny physical gags, amusing references (Ghost and The Exorcist) and even a few laugh-out-loud moments. The movie starts brightly and promisingly with a funny Haunted Mansion-style opening, with Zach Woods funny as the tour guide, and a long entertaining sequence involving Kristen Wiig as Erin Gilbert and her character's college life.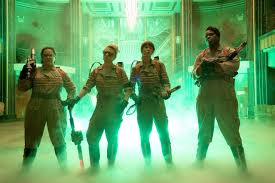 Thereafter the movie has its strengths and its problems, but its main trouble is the central one of the irritating slapstick performances by a star team that just doesn't gel well. Of the four, Kristen Wiig is outstanding in an effortless seeming standout turn as Erin, who had a paranormal encounter as a child and later co-wrote a ghost book with Melissa McCarthy's Abby Yates. Abby has put the book on the Internet and Erin loses her college job when a ghost encounter video goes viral.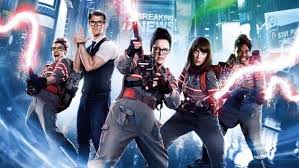 Erin seeks Abby out, and the movie proper starts, introducing first Kate McKinnon as kooky engineer Jillian Holtzmann and then Leslie Jones as transit worker Patty Tolan. This is the point when the movie's troubles start since the over-broad comedy turns by Jones and McKinnon quickly outstay their welcome, passengers in the movie, leaving Wiig and McCarthy to bear the whole burden of the comedy, which in fairness they have a valiant stab at doing.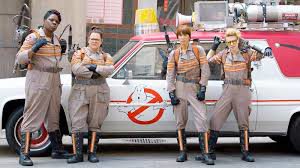 It is amazing that Wiig can still stay funny and sympathetic despite the constantly repeated 'joke' of her character fancying the new secretary. So Hemsworth is handsome, we can all see that, why is that funny, even once? The script even gets Hemsworth mentioning that he is 'handsome', now that's not cool, is it?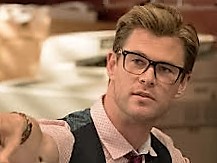 It is upsetting to have to say that Hemsworth takes his career a step in the wrong direction as dim-witted eye candy Kevin, stranded in a sexist role without any decent lines or any comedy he can make funny. And, more upsetting, there are rather sad cameos from many of the original cast, with only Bill Murray given an actual cameo role as Ghostbusters non-believer Martin Heiss, but he can make nothing of it, nothing at all.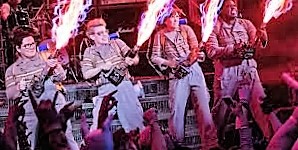 Andy Garcia is also lost as the New York mayor Bradley and can't find the humour in his role (being compared to the mayor in Jaws?) and Charles Dance has nothing to do as Gilbert's stuffy university dean boss. Both of these actors wisely underplay, and could have been funny with funny material. However, the worst comedy turn comes from Cecily Strong as the mayor's aide. Her arch acting may work on TV, but it looks terrible on the big screen.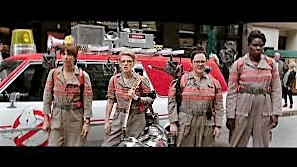 Understandably, the best material is used in all of the trailers, clips and TV ads, but it is a problem, adding to the sense of deja vu of the remake. Again, though, as with Absolutely Fabulous, surprisingly the movie is better and funnier than the trailer.
The supernatural action, when it comes, is daft and unexciting, with predictable green screen CGI and the expected funny monsters. So it's a movie with no male protagonists, no good villains, no scary monsters, no young people (didn't they think of remaking Ghostbusters as a teen movie?), no 3D (when it cries out for it) and no fresh take (except the sex reversal of course). As a chick flick supernatural comedy it will stand or fall on whether Wiig and McCarthy (plus Hemsworth) can mobilise their women fans to an Eighties reboot. They may be popular and talented enough to do it.
A good sign is that it earned a warm reception, a lot of laughs and a round of applause from the audience who missed seeing Andy Murray win the men's Wimbledon final to be at the Leicester Square Odeon for the London multi-media preview.
Paul Feig is known for Bridesmaids (2011), The Heat (2013) and Spy (2015).
© Derek Winnert 2016 Classic Movie Review 3996
Check out more reviews on http://derekwinnert.com