Ghost in the Shell *** (2017, Scarlett Johansson, Pilou Asbæk, Takeshi Kitano, Juliette Binoche, Michael Pitt) – Movie Review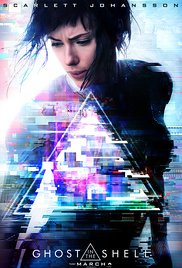 Ghost in the Shell is smart, smooth and slick, visually stylish and impressive, an interesting attempt at an arty blockbuster. But it is also a bit flat and one-note, as well as derivative, with many hints of Blade Runner and a few of The Matrix, so it doesn't feel quite as dynamic or fresh as you hope.
It seems to borrow a lot of its visual style and many of its themes and ideas from Blade Runner. It is the second week running a Ridley Scott classic has been raided, after Life followed in the footsteps of Alien. The main problem with this is, you sit there watching the new movies thinking how great Blade Runner and Alien are.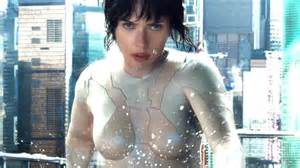 Scarlett Johansson plays Major, whose body is destroyed a terrible crash, so she's given a cyber-body (the shell) to go with her surviving brain (the ghost) and, for reasons not absolutely clear, a year later she is a perfect soldier devoted to stopping the world's most dangerous criminals. And of course, in the dystopian near future she's in, there is short shortage of bad guys.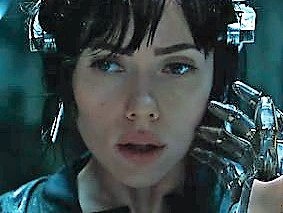 Johansson looks a treat, tasty and fit as a fiddle, great looking in the CGI-ed action, and happily not too troubled by being only a brain. It's a great big star role for Scarlett, whose name is in huge letters on the poster, above the title. Finally, it seems she can open a movie single handedly, and she is a super-star. Great!
But it's a no-acting required role, anyone could do it, well any fit-looking 30something woman, and, as she's playing a machine, a machine could have done it. Why not just CGI it entirely? Oh, that's right, there already is a much-loved Japanese anime version of Masamune Shirow's manga comic, Ghost in the Shell [Kôkaku Kidôtai], from 1995.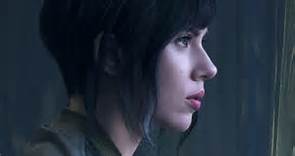 There is a huge amount of action in the new Ghost in the Shell, so no one will complain about that. It is a very fast-moving, entertaining movie. But there is less thought and character development, actually less plot too, than it could handle. That would give it the lift it needs to elevate it.
Pilou Asbæk as Batou, Takeshi Kitano as Aramaki, Juliette Binoche as Major's creator Dr Ouelet and Michael Pitt as Kuze make a bit of an impression, though they don't have much to go on. They are all very talented and very welcome, ironically humanising a film about cyborgs. Well, it's also about being human, too, I guess. The casting weakness is Peter Ferdinando as the villain Cutter. Something much more spectacular than this is needed.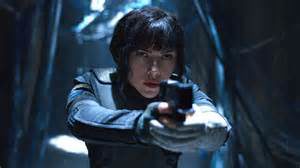 I get the impression that there was some nervous, perhaps last-minute cutting to deliver a popular blockbuster rather than an arty one. If so, that's a shame. There is probably a much longer, more substantial director's cut somewhere. If so, I look forward to it. This film is very entertaining and enjoyable, but it lacks texture and substance. It could have been a contender. Well, to be fair, it is. But it could have been a winner.
Let's see what they do with the inevitable sequel. They have spent a fortune advertising this one, so it must surely be a smash hit.
Incidentally, it has a 12 certificate for 'moderate violence and threat' but there is an awful lot of both, mostly involving guns.
It opened in the US to a disappointing $19 million for a three-day weekend, less than half of The Boss Baby's total.
© Derek Winnert 2017 Movie Review
Check out more reviews on http://derekwinnert.com