Getting Even with Dad * (1994, Macaulay Culkin, Ted Danson, Glenne Headly) – Classic Movie Review 5771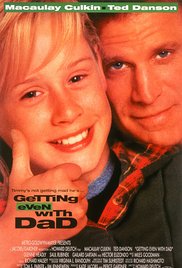 Director Howard Deutsch's turgid, rather bad tempered 1994 comedy with hints of a thriller plot fails to find gainful employment for child star Macaulay Culkin as motherless kid Timmy who is dumped on his estranged ex-con dad Ray (Ted Danson) just as he is planning a rare coins heist with a couple of silly stooges Bobby and Carl (Saul Rubinek, Gailard Sartain).
The idea of a kid outsmarting goonish crooks is pinched straight out of Culkin's biggest hit Home Alone (1990). But the flat-as-a-pancake screenplay by Tom S Parker and Jim Jennewein (who also wrote Culkin's other 1994 vehicle Richie Rich) can do nothing with either the slapstick, action or sentimentality, as all three are equally ineptly handled.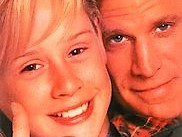 Culkin goes through his paces like the old trouper that he already is at 13, though he has lost his former cute charm. But Danson is surprisingly at a loss playing second fiddle to a kid and cannot raise a laugh or any belief in his character or establish any rapport with Culkin. So you never believe that they are father and son or that a selfish criminal would have any dilemma choosing between the loot and the kid.
Glenne Headley tries hard and does make some headway as Theresa, the police detective on the case who falls for Danson's Ray. But talented Rubinek and Sartain are marooned among the untruthful slapstick. Hector Elizondo and Kathleen Wilhoite merely look on as the police chief Lieutenant Romayko and boy's aunt Kitty.
The well-used, pretty San Francisco locations, smartly shot by Tim Suhrstedt, are a definite asset – making for a good-looking film – and so is the score by Miles Goodman.
Also in the cast is Sydney Walker as Mr Wankmueller, Sam McMurray, Dann Florek, Ron Canada and Ralph Peduto.
This, The Pagemaster (1994) and Richie Rich were Culkin's last movies as a kid. He made no more movies until Party Monster in 2003.
© Derek Winnert 2017 Classic Movie Review 5771
Check out more reviews on http://derekwinnert.com