Gentlemen Marry Brunettes ** (1955, Jane Russell, Jeanne Crain, Alan Young, Scott Brady, Rudy Vallee) – Classic Movie Review 5167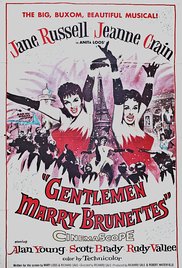 Jane Russell and Jeanne Crain star in director Richard Sale's disappointingly stodgy 1955 sequel to the fabulous Gentlemen Prefer Blondes (1953) as dark-haired Broadway showgirl sisters who go to Paris to find fame and romance.
The Fox production, settings, costumes (designed by Dior and Travilla) and Desmond Dickinson's cinematography are definite assets. But Mary Loos and Richard Sale's sometimes stale screenplay (based on the book But Gentlemen Marry Brunettes by Anita Loos) and some disappointing musical numbers keep the movie often rather flat.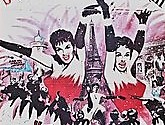 However, there are some excellent tunes ('My Funny Valentine', 'I Wanna Be Loved By You' and 'Ain't Misbehavin") to compensate. But, overall, the movie lacks the special sparkle of the Russell-Marilyn Monroe double act of the first film, and of course Monroe is much missed and so is the enchanting chemistry of the Russell-Monroe pairing.
Also in the cast are Alan Young, Scott Brady, Rudy Vallee, Guy Middleton, Ferdy Mayne, Eric Pohlmann, Leonard Sachs and Michael Balfour.
Travilla (1920–1990) draped a fringed Idaho potato sack on Monroe for a photo to prove she looked good in anything.
Jane Russell died on 28 February 2011, aged 89.
aged 96.
© Derek Winnert 2017 Classic Movie Review 5167
Check out more reviews on http://derekwinnert.com