Genghis Khan ** (1965, Omar Sharif, Stephen Boyd, Françoise Dorléac, James Mason, Robert Morley, Telly Savalas, Woody Strode, Eli Wallach, Yvonne Mitchell) – Classic Movie Review 4435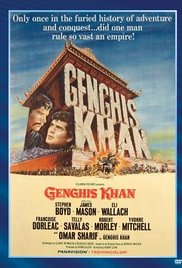 Director Henry Levin's costly ($3.5 million), large-scale 1965 international action epic spectacular tells a lively, comic-book version of the legendary story – that is mostly unhistorical and fictionalised – but with a shaky script and uneven acting from an uncomfortable cast.
Omar Sharif stars as Temujin, who becomes the fearless rabble-rousing Mongol leader Genghis Khan, unites all Mongol tribes and assembles an army against an ancient foe during the 13th century. Sharif settles in to his role quite nicely, bringing conviction and gravitas, but the rest of the group of distinguished actors is very weirdly cast, and it is entertaining to watch them finding their own ways through it.
James Mason (as Kam Ling, China's chief courtier), Eli Wallach (the Shah of Khwarezm) and Robert Morley (as the Chinese Emperor, for heaven's sake!) cunningly enjoy themselves. But top-billed Stephen Boyd (as Jamuga), Françoise Dorléac (Bortei), Telly Savalas as Shan, Woody Strode as Sengal and Yvonne Mitchell as Katke seem to be in a different movie, taking it all much too seriously.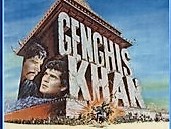 Screen-writers Clarke Reynolds, Beverley Cross and Berkely Mather (original story) throw in a little of everything – violent action, slapstick comedy, romantic interludes – most of it to little avail, though at least it makes the movie feel busy and not boring. Geoffrey Unsworth's cinematography, filmed in Yugoslavia, is a major asset, making it looks good.
A follow-up to the previous year's The Long Ships, it has not aged well.
Also in the cast are George Savalas, Kenneth Cope, Thomas Margulies, Roger Croucher, Patrick Holt, Michael Hordern, Cliff Lyons, Carlo Cura and Don Borisenko.
Sharif was upset when he discovered that Wallach was earning $25,000 a week, adding up to far more than his total salary.
© Derek Winnert 2016 Classic Movie Review 4435
Check out more reviews on http://derekwinnert.com