Gay Purr-ee *** (1962, voices of Judy Garland, Robert Goulet, Hermione Gingold, Red Buttons, Mel Blanc, Paul Frees) – Classic Movie Review 5174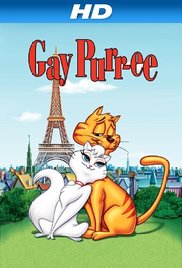 Director Abe Levitow's 1962 animated feature of feline frolics is sweet and pleasant in the manner of Disney's slightly better The AristoCats (1970) .
The screenplay by Dorothy Jones, Chuck Jones and Ralph Wright tells a story about the adventures of a pair of country cats who move to Paris, where they find zee life a leetle crazy.
The film is perhaps a bit adult for children, and a touch childish for adults. But the songs are cute, while Judy Garland (as housecat Mewsette), Robert Goulet (mouser Jaune-Tom), Red Buttons (as Robespierre) and Hermione Gingold (Madame Rubens-Chatte) are all in fine vocal form.
Effective use of painterly backgrounds (Matisse, Lautrec, Van Gogh, Modigliani, Cézanne) gives it originality, and the songs by The Wizard of Oz's Harold Arlen (music) – E Y Harburg (lyrics)) give the movie a special distinction.
Morey Amsterdam, as the Narrator, Mel Blanc, as Bulldog / Bartender / the Driver / and Mice Sounds, Paul Frees as Meowrice, Julie Bennett and Joan Gardner provide other voices.
© Derek Winnert 2017 Classic Movie Review 5174
Check out more reviews on http://derekwinnert.com