Gangs of New York ***** (2002, Leonardo DiCaprio, Cameron Diaz, Daniel Day-Lewis, Liam Neeson, Henry Thomas) – Classic Movie Review 276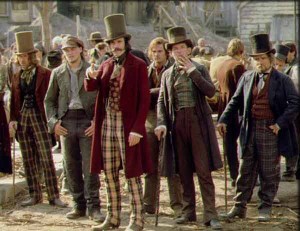 Leonardo DiCaprio stars in Martin Scorsese's eagerly awaited, highly ambitious and well received 2002 American fictional historical epic. In an unpleasant slap in the face, it was nominated for 10 Oscars and didn't win a single one. It cost a fortune, nearly $100million, and fared modestly at the box office, with a $77million gross in the US plus another $103million worldwide, meaning it recouped its rather risky investment. This is the very kind of movie where Oscars would have helped its box office a lot.
In his first of many distinguished collaborations with the director, DiCaprio may not be absolutely ideally cast. But, at 28, he gives an impressively grown-up performance as Amsterdam Vallon, an Irish American in the 1860s, who grows up in a reform school in the Five Points district of Lower Manhattan, New York.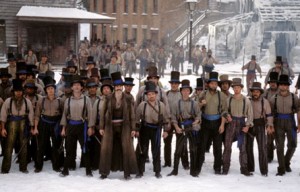 He infiltrates a racist gang to avenge himself on its evil leader, William 'The Butcher' Cutting (Daniel Day-Lewis), who killed his minister father (Liam Neeson). Vallon soon falls for the easy charms of a sexy pickpocket, Jenny Everdeane (Cameron Diaz), who unfortunately is the Butcher's ex-girlfriend and is also fancied by Vallon's buddy, Johnny Sirocco (Henry Thomas).
But Scorsese's historical drama is a rage-driven tale of hate not a love story, and it's packed with violent action as rival gangs fight for control of Lower Manhattan streets. With its amazing set pieces, vast-scale production and idea-packed script, this is a great slice of cinema. Technically, it couldn't be bettered. Michael Ballhaus's cinematography, Dante Ferretti's production designs, Sandy Powell's costumes and Thelma Schoonmaker's editing are the best in the business.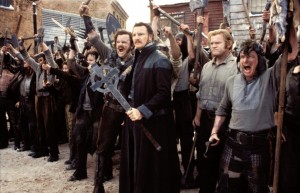 Out-acting everybody, Day-Lewis deserved the Oscar he was nominated for as the most terrifying of villains. But he was compensated for this by winning the Bafta award as Best Actor.
Provocatively, this essay on the roots of violence in America begins in the 1840s, with an extraordinary pitched battled between the rival gangs of Neeson and the Butcher, and ends with twin graves overshadowed by a Manhattan skyline with the Twin Towers.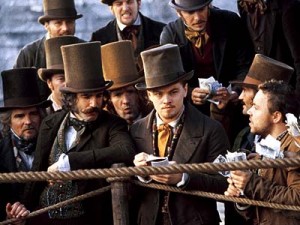 The only downsides are first that, the script, based on a story by Jay Cocks, isn't always up to the scale of its ambitions. And secondly that the film has a slimline, cutdown feeling, with its epic-scale mistakenly trimmed by a nervous studio, Miramax, with some storylines and characters coming and going too rapidly and unsatisfyingly.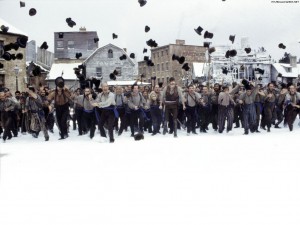 Scorsese won a Golden Globe as Best Director and so did Bono for Best Song, The Hands That Built America. And it was the American Film Institute's Movie of the Year.
Also in the cast are Jim Broadbent, Brendan Gleason, Gary Lewis, Stephen Graham, Eddie Marsan, Alec McCowen, David Hemmings, Larry Gilliard Jr, Cara Seymour, Roger Ashton-Griffiths, Peter Hugo-Daly, Tim Pigott-Smith, John Sessions and Sean McGinley.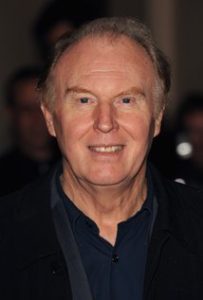 Tim Pigott-Smith, who plays the Calvinist Minister here, died on 7 aged 70.
http://derekwinnert.com/titanic-classic-film-review-77/
http://derekwinnert.com/the-aviator-classic-film-review-592/
http://derekwinnert.com/the-man-in-the-iron-mask-1998-leonardo-dicaprio-classic-film-review-1035/
© Derek Winnert 2013 Classic Film Review 276 derekwinnert.com