Gaby * (1956, Leslie Caron, John Kerr, Cedric Hardwicke) – Classic Movie Review 5426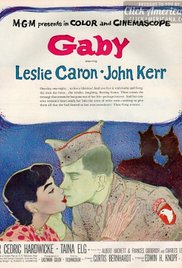 Director Curtis Bernhardt's anaemic, artificial and preposterous 1956 romantic drama stars Leslie Caron as ballerina Gaby, who goes from dizzy happiness to contemplating suicide after her lover is apparently killed in the D-Day landings. This dire retread of MGM's 1940 weepie Waterloo Bridge (itself a remake of 1931's Universal film Waterloo Bridge) is updated from World War One to World War Two.
John Kerr also stars as Corporal Gregory 'Greg' Y Wendell, the American wartime paratrooper Caron's Gaby eventually goes to pieces over under Bernhardt's sludgy, bloodless direction.
[Spoiler alert] Greg goes off to war, promising to marry Gaby on his return, but soon Gaby hears he has been killed. Gaby wakens her ideas up and substitutes other soldiers for Greg, who promptly turns up alive and well – and upset!
Though nice enough company, Caron and Kerr light no sparks at all in this then dated, now faded piece, done without the unskakeable conviction of the golden era originals. MGM try to clean up and freshen up the originals, but it is just warmed-over stale goods, dressed up in colour (weird Eastmancolor) and CinemaScope.
Albert Hackett, Frances Goodrich and Charles Lederer are all talented writers but they can't carve out a good script based on Robert E Sherwood's play Waterloo Bridge and the 1940 screenplay by S N Behrman, Paul Hans Rameau, and George Froeschel. No one can say that they didn't try for a new take, though.
Also having a dreary time are Cedric Hardwicke, Taina Elg, Margalo Gillmore, Scott Marlowe, Joseph Corey, James Best, Ian Wolfe, Joe Di Reda, Lisa Montell, Ruta Lee, Narda Onyx and Gloria Wood.
In the two original films, the heroine is a prostitute who meets the hero while working under London's Waterloo Bridge, but now they just happen to bump into each other while Gaby is rushing to catch a bus. And now she is also French, and the only thing standing in their way is her reluctance to get involved and the red tape nightmare for them to marry.
© Derek Winnert 2017 Classic Movie Review 5426
Check out more reviews on http://derekwinnert.com