Fury at Smugglers' Bay *** (1961, Peter Cushing, John Fraser, Bernard Lee, William Franklyn, June Thorburn, Miles Malleson, Michèle Mercier, George Coulouris, Liz Fraser) – Classic Movie Review 4175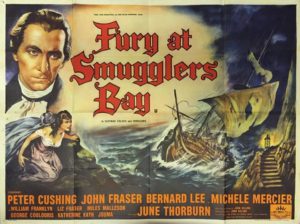 Writer-director John Gilling's fun 1961 period adventure stars Peter Cushing as a Cornish squire who tries to keep the smugglers at bay.
Gilling's British sea saga about a gang of shipwreckers' reign of terror in 1790 is bright, lively and colourful. It is propelled by the jovial acting turns from Cushing, young Fraser as Cushing's son Christopher Trevenyan, Lee as the chief pirate Black John and William Franklyn as a daring highwayman known as The Captain, as well as Gilling's sprightly direction with a fast pace and a good smuggling atmosphere.
All that brightens this close relative of Jamaica Inn, and it's no worse than Hitchcock's movie Jamaica Inn, based on Daphne Du Maurier's novel.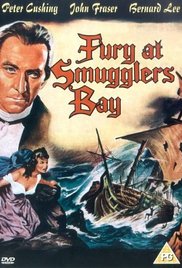 Squire Trevenyan has three main problems to overcome. (1) Black John knows Trevenyan's darkest secret so what can the Squire do against the pirate's ship wrecking and smuggling spree? (2) Then his son Christopher falls in love with Louise Lejeune (Michèle Mercier), the pretty daughter of a smuggling local merchant. (3) And finally there is the pesky villain called The Captain hwo is robbing any stagecoach that travels through his Cornish territory.
Also in the cast are June Thorburn as Jenny Trevenyan, Miles Malleson as the Duke of Avon, George Coulouris as François Lejeune, Liz Fraser, Tom Duggan, Katherine Kath, Humphrey Heathcote, Maitland Moss, Christopher Carlos, Alan Browning, Patrick Diamond, James Liggat, Bob Simmons and Jouma.
© Derek Winnert 2016 Classic Movie Review 4175
Check out more reviews on http://derekwinnert