From Hell It Came * (1957, Tod Andrews, Tina Carver, Linda Watkins, John McNamara, Suzanne Ridgway) – Classic Movie Review 4898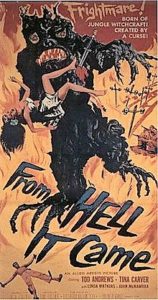 Director Dan Milner's incredibly bad 1957 horror/ sci-fi monster movie is actually a step beyond incredible, but it is hellishly funny in its insanely campy way.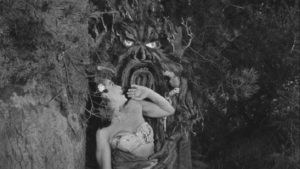 When the local witch doctor plots to get an innocent South Seas island prince executed for murder by having a knife driven into his heart for fraternising with American scientists, he comes back as the Tabanga, the walking tree. The scientists dig up vengeful tree creature from hell and stimulate his heart, and lo! he walks and goes on the rampage. It is up to the American scientists (Tod Andrews as Dr. William Arnold and Tina Carver as Dr. Terry Mason) to save the day.
Chester Hayes goes down in film history as Maku / Tabanga.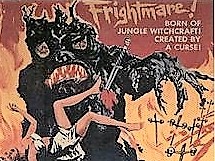 It also stars Linda Watkins as Mrs. Mae Kilgore, John McNamara as Professor Clark, and Suzanne Ridgway as Korey. Also in the cast are Robert Swan as Tano, Baynes Barron as Chief Maranka and Mark Sheeler as Eddie.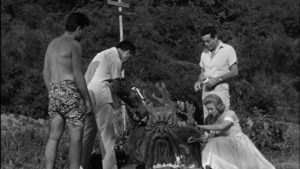 It runs 73 minutes, is a Milner Brothers production, was released by Allied Artists as the top half of a double bill with The Disembodied, is written by Richard Bernstein, is shot in black and white by Brydon Baker, is produced by Jack Milner, is scored by Darrell Calker, and the special effects are by James H Donnelly.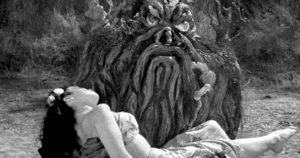 The iconic Tabanga monster was designed by Paul Blaisdell, also known for his work on The She-Creature, Invasion of the Saucer Men, Not of This Earth (1957) and It! The Terror from Beyond Space. It was manufactured by Don Post Studios.
It was the target of a famous review: 'And to hell it can go!'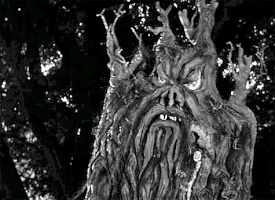 It is the second and last feature produced by the Milner brothers, following The Phantom from 10,000 Leagues (1955).
For long the tree monster had remained quiet, but Warner Home Video released it on DVD in 2009.
© Derek Winnert 2017 Classic Movie Review 4898
Check out more reviews on http://derekwinnert.com