From Hell **** (2001, Johnny Depp, Heather Graham, Ian Holm, Robbie Coltrane, Ian Richardson, Jason Flemyng) – Classic Movie Review 222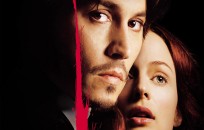 Based on the graphic novel by Alan Moore and Eddie Campbell, this 2001 real-life Victorian melodrama suspense thriller from The Hughes Brothers Albert and Allen plays like a very loose unofficial remake of Bob Clark's Murder by Decree (1978).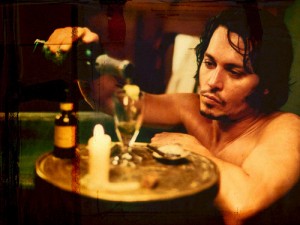 Despite being somewhat addled with a way over-confident bad cockney accent, Johnny Depp oozes charisma and authority as troubled, clairvoyant policeman Inspector Fred Abberline, who investigates Jack the Ripper's grisly murders of Whitechapel prostitutes in 1888 London, and uncovers a web of corruption among officialdom.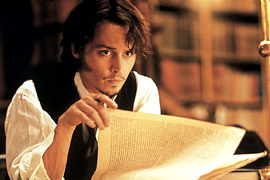 With an effective, expert screenplay by Terry Hayes and Rafael Yglesias, this lustily conjures up all the horror, suspense and mystery you need and provides a satisfyingly convincing explanation of the unsolved case. Although it is well trodden ground and the plot is a sometimes tricky-to-follow tangled web, the movie is a generally very accomplished and entertaining version of the tale, packed with authentic Victorian atmosphere, eerie suspense and a creepy atmosphere of effectively heightened realism.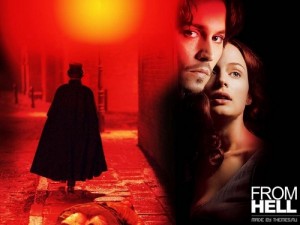 An all-too American beauty Heather Graham may look right and be appealing as prostitute Mary Kelly, an Irish lady of the night in London, but she is miscast and gives a slightly feeble performance, overwhelmed by all the Gothic acting round her. But esteemed and always reliable true Brit thespians Ian Holm (as Sir William Gull), Robbie Coltrane (as copper Police Sergeant Peter Godley) and Ian Richardson (as Sir Charles Warren) have a much better time of it.
As time's gone by, it has grown in status and esteem, and has turned out to be one of Depp's best movies.
Also in the cast are Jason Flemyng, Katrin Cartlidge, Terence Harvey, Susan Lynch, Paul Rhys, Lesley Sharp, Estelle Skornik, Nicholas McGaughey, Annabelle Apsion, Joanna Page, Mark Dexter, Danny Midwinter, Samantha Spiro, David Schofield, Byron Fear and Peter Eyre.
It runs 121 minutes, is produced by Underworld, released by 20th Century Fox, is written by Terry Hayes and Rafael Yglesias, is shot in widescreen by Peter Deming, is produced by Jane Hamsher and Don Murphy, is scored by Trevor Jones and designed by Martin Childs.
© Derek Winnert 2013 Classic Movie Review 222
Check out more reviews on http://derekwinnert.com