From Dusk Till Dawn **** (1996, Harvey Keitel, George Clooney, Quentin Tarantino, Juliette Lewis) – Classic Movie Review 142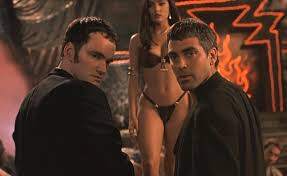 Lustily made in 1996 by director Robert Rodriguez, with a typically vibrant screenplay by Quentin Tarantino, this highly popular cult horror thriller is a lot of good, disreputable fun, though it's quite crudely done and very nasty in places. All of that is intentional, of course, for that's its style and its whole point.
A rough and the smooth duo you would not necessarily put together, Quentin Tarantino and George Clooney star as Richard and Seth Gecko, a pair of crooked lowlife brothers. They're both robbers, but Richard is also a rapist psycho. They've done a bank heist in Abilene and robbed a convenience store in the desert, and are heading to Mexico with a hostage.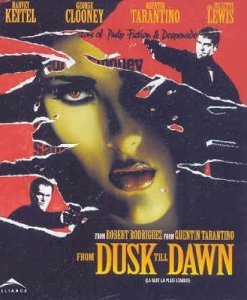 Unfortunately, they stop off at a motel, where a nice family is staying. Seizing their chance, they abduct a grieving preacher Jacob Fuller (Harvey Keitel), his family of two kids Kate and Scott (Juliette Lewis, Ernest Liu) and their RV van and head from Texas across the Mexican border. They are going to free the family and meet with their partner Carlos (Cheech Marin) at dawn.
[Spoiler alert] Safely over the border, they hove up in a remote bar called the Titty Twister, inhabited by suspicious looking biker and trucker characters. That's bad enough, you'd think, but unfortunately they turn out to be vampires! Just when the crew are enjoying watching Santanico Pandemonium (Salma Hayek) dancing, real pandemonium breaks out.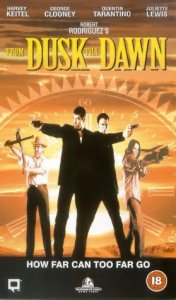 After an hour and 15 minutes running as a typical 90s violent crime thriller, From Dusk Till Dawn splits into an entirely different movie (a wild special-effects-led horror flick) in its last quarter — far too late to give it full coherence or total audience satisfaction. Couldn't the vampire story have kicked in about half an hour earlier, around 45 minutes into the movie?
Nevertheless, it always has something going for it. Sometimes there are flashes of quirky genius, sometimes just handfuls of talky dross, in this wayward and erratic movie. However, there's an honourable place for this kind of movie. There are lots of good things along the way to the crazy finale, not least the classy performances of Tarantino, Keitel, Lewis, Hayek, Marin, and especially an effectively cast-against-type Clooney.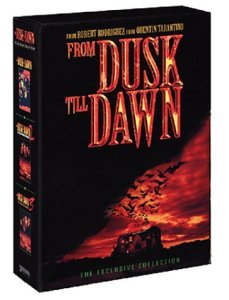 Tarantino based his screenplay on a story by Robert Kurtzman.
In 1999, two sequels followed: From Dusk Till Dawn 2: Texas Blood Money with Robert Patrick and From Dusk Till Dawn 3: The Hangman's Daughter with Temuera Morrison.
© Derek Winnert 2013 Classic Movie Review 142
Check out more reviews on http://derekwinnert.com/