Fresh ** (1994, Sean Nelson, Giancarlo Esposito, Samuel L Jackson) – Classic Movie Review 6363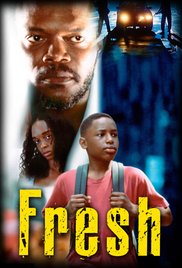 The eponymous 12-year-old African American kid Fresh (Sean Nelson) is late for a very important date – in his New York classroom – because he has been held up in his heroin-running work for the local drug lord, Esteban (Giancarlo Esposito).
Writer-director Boaz Yakin's 1994 film is a very sordid, depressing affair. The violent and controversial Fresh comes up pretty darned stale. Admittedly this is a moral tale where the bad guys get their comeuppance, but it seems very dodgy to show the child setting deadly traps for them. It is a pity, too, that Samuel L Jackson is wasted as the lad's chess-playing, moralising dad, Sam. But Nelson and Esposito are undeniably class acts.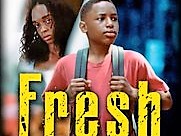 Also in the cast are N'Bushe Wright as Fresh's drug-addicted sister Nichole, Ron Brice, Jean LeMarre, José Zuñiga, Luis Lantigua, Yul Vazquez, Anthony Thomas, Cheryl Freeman, Curtis L McClarin and F Murray Abraham.
It is shot by Adam Holender, produced by Lawrence Bender and Randy Ostrow, scored by Stewart Copeland and designed by Dan Leigh.
It is rated R for intense, realistic depiction of urban violence, and for drug content, pervasive strong language, and some sexuality.
© Derek Winnert 2017 Classic Movie Review 6363
Check out more reviews on http://derekwinnert.com