Free Fire **½ (2016, Sharlto Copley, Armie Hammer, Sam Riley, Brie Larson, Jack Reynor, Cillian Murphy, Enzo Cilenti, Michael Smiley, Noah Taylor) – Movie Review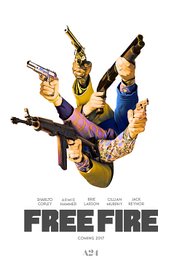 Co-writer/ director Ben Wheatley's 2016 black comedy action movie is an often funny but disreputable and not very fresh feeling Tarantino-style crime thriller, with a script (by Wheatley and Amy Jump) that looks like they were making it up as they went along. In a very interesting cast, Sharlto Copley, Sam Riley and Armie Hammer stand out, perhaps surprisingly, and all three of them are very amusing. It also stars Brie Larson, Jack Reynor, Cillian Murphy, Enzo Cilenti, Noah Taylor and Michael Smiley, who are OK but unfortunately less successful.
In Boston in the late Seventies, 1978, two gangs meet in a deserted warehouse to exchange a suitcase of cash for trunkloads of weapons. But the exchange doesn't go well, and a disagreement turns into a full-on shootout and a deadly game of possible survival.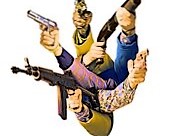 Its stale Nineties warmed-over feel is a problem, and its one-set action too. And the laughs are all sadistically about people in pain. And, in the extended shootout that is the whole film, the identity of the last man standing is no surprise, and the sting-in-the-tale payoff is no surprise either. Nevertheless, Free Fire is slick, gleeful and often amusing in its slapdash, bad taste way. It oozes self confidence and hip awareness, but it doesn't really have the stuff to be Reservoir Dogs.
Token woman Brie Larson won't be up for another Oscar for this one, not fitting too well into the ensemble as the resourceful Justine, and there is too much of Jack Reynor and Cillian Murphy, who are uneasy here as Harry and Chris. Reynor over-plays while Murphy under-plays, neither pitching quite right.
As for the movie, for me, there is too much simple-minded cynicism and bad karma with all the guns. It hasn't earned the right to play with guns and pain like this.
Its world premiere was at the Toronto International Film Festival on 8 September 2016 and it was the closing gala film at the 2016 BFI London Film Festival on 16 October 2016. But it is not being released in the UK till 31 March 2017.
Original stars Olivia Wilde and Luke Evans dropped out. Wilde was replaced by Larson, cast in April 2015 before her Best Actress Oscar for Room (2015). It was shot between 8 June and 17 July 2015.
© Derek Winnert 2016 Movie Review
Check out more reviews on http://derekwinnert.com