Frantz **** (2016, Paula Beer, Pierre Niney, Ernst Stötzner, Marie Gruber, Anton von Lucke, Cyrielle Clair, Alice de Lencquesaing) – Movie Review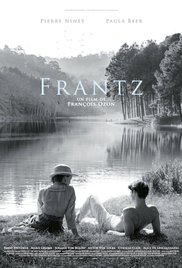 Writer-director François Ozon's incredibly romantic, gorgeously bitter-sweet drama stars Paula Beer as young German woman Anna who is grieving the death of her fiancé Frantz in the fighting in World War One France. She lives in a German small town with Frantz's equally grieving parents. She has a persistent, none too nice middle-aged suitor, Kreutz (Johann von Bülow), an elderly doctor and his wife.
Visiting the fiancé's grave to lay flowers, Anna sees  a mysterious Frenchman who later turns up at the house of Frantz's achingly nice parents Hans and Magda Hoffmeister (Ernst Stötzner, Marie Gruber) and tells them he is Frantz's friend, Adrien Rivoire (Pierre Niney).
Adrien's arrival in Germany upturns the lives of all the locals. But Adrien is not quite what he says he is.
Anton von Lucke plays the dear departed Frantz Hoffmeister, Cyrielle Clair is brilliantly chilly as Adrien's mother and Alice de Lencquesaing is the film's eighth character, Fanny.
The story is based on Ernst Lubitsch's 1932 film Broken Lullaby, which in turn derived from Maurice Rostand's 1930 play L'Homme Que J'ai Tué (The Man I Killed). So Frantz is a real old-fashioned heart-tugger, and Ozon goes to it with huge commitment, skill and passion.
It is a lush, lovely film, beautifully shot and realised, mostly in German and in black and white. With her tragic good looks and brooding manner, Beer is perfect as Anna, while Niney expertly captures the enigma that is Adrien and Stötzner and Gruber are really sweet as the parents.
Beer won the Best Young Actress award at the 2016 Venice Film Festival.
© Derek Winnert 2016 Movie Review
Check out more reviews on http://derekwinnert.com