Framed ***½ (1947, Glenn Ford, Janis Carter, Barry Sullivan, Edgar Buchanan, Karen Morley) – Classic Movie Review 4492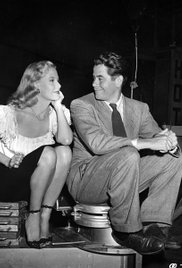 Director Richard Wallace's intriguing and effective 1947 low-budget B-movie film noir crime thriller stars a sexy Janis Carter as sultry femme fatale Paula Craig, who schemes with married man Steve Price (Barry Sullivan) to commit the perfect robbery from the bank that he manages.
Glenn Ford is top billed as Mike Lambert the man they set up as the fall guy for the robbery, but then Paula inconveniently falls for Mike…
This enjoyable movie may be downgrade Double Indemnity-style noir stuff, lacking in a full deck of real style and finesse, but it is tautly, briskly and very competently done. The three main stars give excellent performances, with the seductive Carter outstanding, and it is decently played throughout by a strong and solid second-level cast, who are ideal for noir.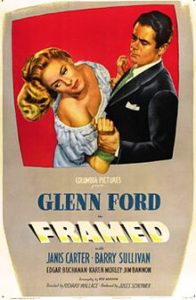 It is written by Ben Maddow from a story by John Patrick, shot in black and white by Burnett Guffrey, produced by Jules Schermer for Columbia studios, scored by Marlin Skiles and designed by Stephen Goosson.
Also in the cast are Edgar Buchanan, Karen Morley, Jim Bannon, Sid Tomack, Barbara Woodell, Paul E Burns, Stanley Andrews, Eugene Borden, Snub Pollard, Harry Strang, Art Smith, Fred Graff, Gene Roth, Kenneth MacDonald, Al Bridge, Walter Baldwin, Mel Wixon, Martin Garralaga, Robert Kellard, and Nacho Galindo.
© Derek Winnert 2016 Classic Movie Review 4492
Check out more reviews on http://derekwinnert.com