Fortune and Men's Eyes *** (1971, Wendell Burton, Zooey Hall, Michael Greer, Danny Freedman) – Classic Movie Review 2975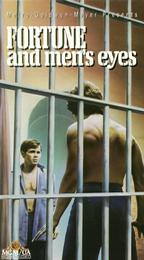 With a screenplay based by John Herbert on his own hit Los Angeles, Broadway and London West End play, director Harvey Hart's tough 1971 Canadian movie is a powerful, disturbing and mostly depressing experience. The title is of course taken from Shakespeare's sonnet 29 which begins with the line 'When in disgrace with fortune and men's eyes'.
It now seems an awkward relic of its dark days, presenting yet more negative images of gay characters and gay life. But, for its time, it is a well-meaning tale of early Seventies homosexuality in a Canadian jail. Perhaps surprisingly, the Canadian Government backed the movie, and it was made in a Quebec prison.
Wendell Burton stars as young, naïve straight prisoner Smitty, who is sent to jail for six months for marijuana possession. He's banged up in a cell with drag queen Queenie, quiet but cocky con Rocky (played by Zooey Hall) and young gay man Mona (Danny Freedman) who ministers to Rocky. Soon the hard-man exploiter Rocky turns Smitty into his sexual subordinate.

There are still some truths to be found among the dated stereotypes, annoying clichés and dodgy attitudes, and it's well written, very capably performed and expertly made. Michael Greer, repeating his stage role, excels as a florid drag-queen gay called, unsurprisingly, Queenie.
The play is inspired by Herbert's experiences in Canadian prison. Like the character Mona, he was sent to prison after he was robbed and beaten by a group of teens who then accused him of having made a pass at them. He spent four months in a youth reformatory after being convicted of wearing drag in 1947. Like Queenie, he performed in drag in the prison Christmas show. Herbert's work is the most published Canadian play.
Also in the cast are Larry Perkins, James Barron, Lazaro Perez, Jon Granik, Tom Harvey, Hugh Webster, Kirk McColl, Vince Davis, Robert Goodier, Georges Allard and Cathy Wiehl as Smitty's girlfriend Cathy.
The song Fortune and Men's Eyes is written by Galt McDermott who wrote the music for Hair and sung by Ronnie Dyson. The lyrics are from Shakespeare's 29th sonnet.
Sal Mineo directed the 1969 Los Angeles production of Fortune and Men's Eyes and played the role of Rocky, the prison bully who rapes the naive young prisoner Smitty (played by Don Johnson in the LA production). Herbert criticised Mineo's Los Angeles and New York stagings and refused to sell him the film rights to his play.
© Derek Winnert 2015 Classic Movie Review 2975
Check out more reviews on http://derekwinnert.com