Forsaking All Others *** (1934, Clark Gable, Joan Crawford, Robert Montgomery) – Classic Movie Review 5782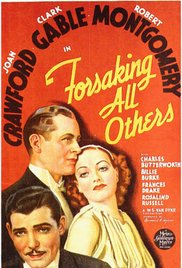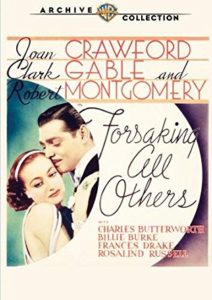 Director W S Van Dyke II's 1934 MGM success pairs the irresistible screen star couple of Clark Gable and Joan Crawford in another fast-moving, enjoyable screwball romantic comedy drama.
Mary Clay (Crawford) is abandoned at the altar by Dill Todd (Montgomery) to marry his old flame Connie (Frances Drake), but, though Mary still has feelings for Dill, she finds compensation in the arms of dullard Jeff Williams (Gable) in this bubbly three-sided romantic comedy, with the stars at their peak.
Should Mary forsake old Jeff when Dill turns up again? With this casting, the outcome seems a foregone conclusion.
Crawford is at her most sparkly in this well produced, pacy, quickly made MGM product from the golden years. The Crawford role was created on Broadway by Tallulah Bankhead in the stage play by Edward Barry Roberts and Frank Morgan Cavett.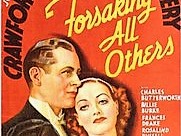 Also in the cast are Charles Butterworth, Billie Burke, Rosalind Russell, Arthur Treacher, Tom Ricketts and Greta Meyer.
It runs 84 minutes, is written by Joseph L Mankiewicz, is shot in black and white by Gregg Toland and George J Folsey, is produced by Bernard H Hyman, is scored by William Axt, and is designed by Cedric Gibbons and Edward B Willis.
It is available on Region 1 DVD and Amazon Video.
The incredibly popular star team Gable and Crawford re-teamed with the same director the year after next for Love on the Run (1936).
© Derek Winnert 2017 Classic Movie Review 5782
Check out more reviews on http://derekwinnert.com