Foreign Correspondent ***** (1940, Joel McCrea, Laraine Day, Herbert Marshall, Albert Bassermann, George Sanders, Eduardo Ciannelli, Robert Benchley, Harry Davenport, Martin Kosleck) – Classic Movie Review 446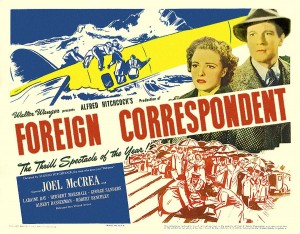 Foreign Correspondent (1940) is one of Alfred Hitchcock's finest classic movies, yet it is not as well known as some of his other masterworks. The reason for that is almost certainly only that it doesn't have big star names like Cary Grant or James Stewart. So it's the more humble Joel McCrea who stars as Johnny Jones, a breezy New York newspaper reporter who gets caught up in a deadly spy game at the outbreak of World War Two in Alfred Hitchcock's wonderfully nimble, witty and exuberantly energetic espionage thriller.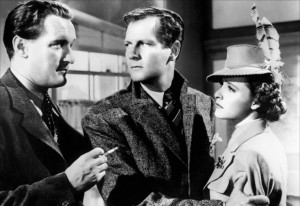 McCrea's editor appoints him European foreign correspondent and sends him to Europe in 1939 to assess the likelihood of war and get the lowdown on a secret treaty agreed between two European countries by the famous old Dutch diplomat Mr Van Meer (Albert Basserman [Bassermann]). McCrea meets the diplomat, who's then kidnapped. McCrea goes to Holland to try to find the statesman with the help of a feisty young English woman, Carol Fisher (Laraine Day). But Day's upper-class father Stephen Fisher (Herbert Marshall) is really a Nazi spy and they end up tracking down a nest of spies.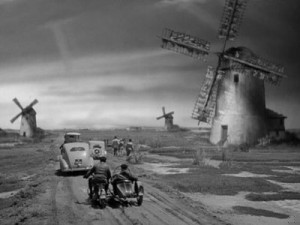 Hitchcock's 1940 gem is notable for showcasing several of Hitchcock's all-time best sequences. There are lease five of them in this movie. (1) the shooting of the Dutch statesman Van Meer on the steps in the rain while the assassin makes his getaway in a sea of umbrellas; (2) the Dutch windmill whose vane is the only one turning the wrong way as a message to enemy aircraft; (3) the normally cuddly Edmund Gwenn's evil Rowley character trying to commit murder at the Roman Catholic Westminster Cathedral in London's Victoria; (4) the plane crash climax, spectacularly well staged in the studio tank; (5) the final call to Americans to join in the war with the British against the Germans.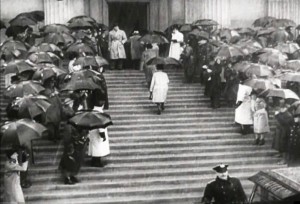 It is also notable for a clever, intricately plotted screenplay (based on the political memoir book Personal History by Vincent Sheean) by Charles Bennett, Joan Harrison, James Hilton and Robert Benchley (the witty actor, who wrote his own lines), as well as Rudolph Maté's black-and-white camera work, Alfred Newman's score and Alexander Golitzen's art direction, plus some well-achieved visual effects.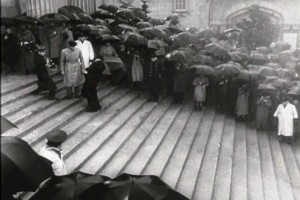 But none of it would work without the adroit, refreshing acting of a good bunch of actors. McCrea and Day might not have been first-level stars, disappointing Hitchcock, who desperately wanted Gary Cooper, but they are superlative, sparking fine chemistry together too. No one could have done it better.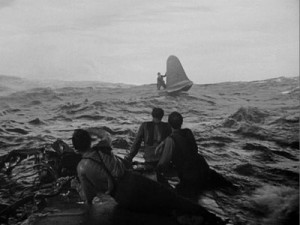 Gary Cooper turned down the lead because he said it was 'a mere thriller', admitting later he was wrong. Hitchcock later said he thought McCrea was 'too easy-going'. Both were quite wrong. Cooper was sniffy and McCrea had got it nailed. Always a good actor, McCrea responds to the challenge of working with Hitchcock by working at the top of his game. Hitchcock wanted Barbara Stanwyck or Joan Fontaine, but again Day excels.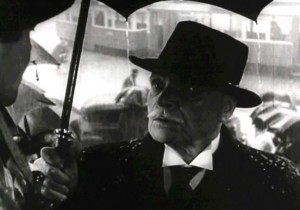 The support team of Basserman, Gwenn, George Sanders, Eduardo Ciannelli, Robert Benchley, Harry Davenport, Martin Kosleck and Eddie Conrad is every bit as good as you'd expect from this fine bunch of eccentric scene-stealers, adding a lot of quirky character to the movie.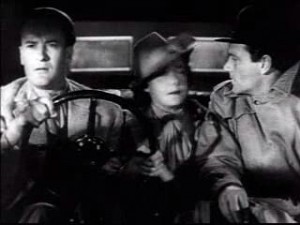 Hitchcock may have felt disappointed in his stars and have been constantly battling his producer Walter Wanger, but he doesn't slack in his direction, relentlessly building tension and creating a succession of startlingly imaginative scenes almost from nowhere, like the magician pulling the rabbit out of the hat.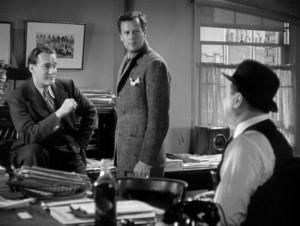 Signalling its quality, Foreign Correspendent was nominated for six Oscars: Best Picture, Best Supporting Actor (Basserman), Best Original Screenplay (Charles Bennett, Joan Harrison) [though it was based on the book Personal History by Vincent Sheean], Best Black-and-White Cinematography (Rudolph Maté), Best Black-and-White Art Direction (Alexander Golitzen), Best Special Effects (Paul Eagler, photographic; Thomas T. Moulton, sound). It won none, yet another disappointment for Hitchcock.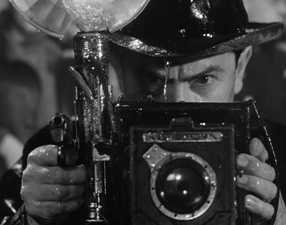 After shooting ended on May 29, 1940, Hitchcock visited London, returning to the US on July 3 with news the Germans were expected to start bombing imminently. He called in Ben Hecht, who wrote the tacked-on final war propaganda scene set at a London radio station. It was filmed on July 5, and the London blitz started on July 10, 1940. It's a patriotic call for the US to enter the war and help the UK. This replaced the cynical original ending, in which George Sanders's Ffolliott character tells McCrea the Germans will likely cover up the incidents in the film.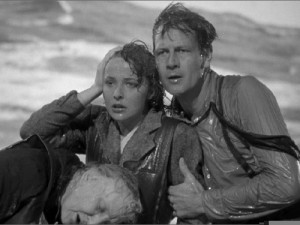 Marshall had lost a leg in World War I combat, so he couldn't swim and a special tub within the studio tank had to be built for the shipwreck sequence.
Sanders, Marshall and Bassermann all also star in The Moon and Sixpence.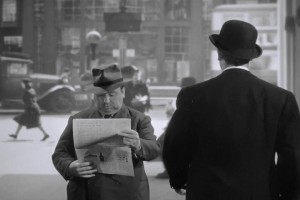 Hitchcock's cameo comes early in the movie walking past McCrea reading a newspaper.
© Derek Winnert 2013 Classic Movie Review 446
Check out more reviews on http://derekwinnert.com/