For Keeps? [Maybe Baby] *** (1988, Molly Ringwald, Randall Batinkoff, Kenneth Mars, Miriam Flynn, Conchata Ferrell, Sharon Brown, Dabney Coleman, Pauly Shore) – Classic Movie Review 4878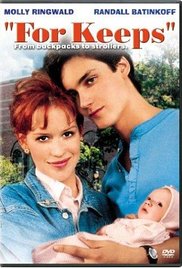 A well-matched Molly Ringwald and Randall Batinkoff star as starry-eyed high-school pupils Darcy (Ringwald) and Stan (Batinkoff), who are in love. But, when school swot Darcy gets unexpectedly pregnant, should the lovebirds pack up their bags and leave school early, have the baby and not go on to college where they have found choice places?
Darcy's single mother Donna (Miriam Flynn) and Stan's Catholic parents, Mr and Mrs Bobrucz (Kenneth Mars, Conchata Ferrell), urge them either to go for an abortion or adoption.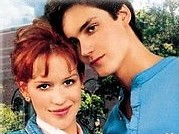 Ringwald is cookily appealing, Batinkoff is handsomely charming and director John G Avildsen's pleasant 1988 teen comedy romantic drama is nicely written by Tim Kazurinsky and Denise DeClue (the screen-writers of About Last Night…) and skilfully played all round.
Also in the sweet cast are Sharon Brown, Dabney Coleman, John Zarchen, Pauly Shore, Michelle Downey, Patricia Barry, Janet MacLachlan, Jaclyn Bernstein, Matthew Licht and Renée Estevez.
© Derek Winnert 2017 Classic Movie Review 4878
Check out more reviews on http://derekwinnert.com