Footlight Parade ***** (1933, James Cagney, Joan Blondell, Ruby Keeler, Dick Powell) – Classic Movie Review 5891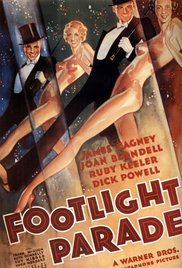 Director Lloyd Bacon's classic 1933 Warner Bros backstage musical is one of the best of its vivacious, toe-tapping kind. It has a quintessential putting-on-a-show plot, in which an out-of-work Broadway producer called Chester Kent (played by James Cagney) gets together a series of prologue shows to present before the main picture begins.
The sharp picture of Broadway, the rousing Cagney performance, the on-form star team of Joan Blondell, Ruby Keeler and Dick Powell, the smashing Harry Warren-Al Dubin and Sammy Fain-Irving Kahal songs, and the unique genius of Busby Berkeley's big numbers make this a milestone musical.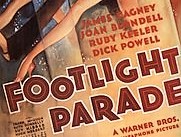 Director Bacon assembles all the pieces, holds the all together and delivers them oh so snappily – and brings home the bacon.
The songs include 'Honeymoon Hotel' and 'Shanghai Lil' (Dubin-Warren), and 'By a Waterfall' and 'Ah the Moon Is Here' (Fain-Kahal).
The actors include Frank McHugh, Guy Kibbee, Ruth Donnelly, Hugh Herbert, Claire Dodd, Herman Bing, Arthur Hohl, Gordon Westcott, Renée Whitney, Charles C Wilson, George Chandler, Hobart Cavanaugh, Billy Barty, Jimmy Conlin, Barbara Rogers, Paul Porcasi, Philip Faversham and John Garfield.
It is written by Manuel Seff and James Seymour, shot in black and white by George Barnes, produced by Robert Lord, scored by Leo F Forbstein, and designed by Anton Grot and Jack Okey.
© Derek Winnert 2017 Classic Movie Review 5891
Check out more reviews on http://derekwinnert.com