Follow That Dream * (1962, Elvis Presley, Arthur O'Connell, Anne Helm) – Classic Movie Review 6551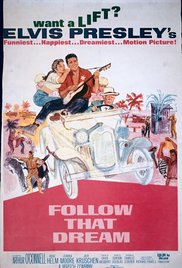 Director Gordon Douglas's 1962 musical romantic comedy is a slushy vehicle for Elvis Presley, with five unmemorable songs. Presley as Toby Kwimper? I don't think so!
Charles Lederer's slack screenplay is taken from Richard C Powell's novel Pioneer, Go Home!  The King's crown is wobbling in a horribly over-cute tale about a singing hillbilly Toby Kwimper (Presley), his dad Pop Kwimper (Arthur O'Connell) and the four adopted kids Holly, Ariadne and the twins who face eviction after they have squatted at an abandoned Florida house.
Anne Helm is feeble and all at sea in the hopeless part of the love interest, Holly Jones.
Those songs include 'Follow That Dream', 'Home Is Where the Heart Is', 'Angel', 'What a Wonderful Life' (by Sid Wayne and Jerry Livingston) and 'On Top of Old Smokey'.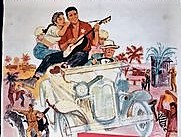 Also in the cast are Joanne Cook Moore, Jack Kruschen, Simon Oakland, Howard McNear, Roland Winters, Alan Hewitt, Frank DeKova, Herbert Rudley, Gavin Koon, Robin Koon, Robert Carricart, John Duke, Harry Holcombe, Pam Ogles and Red West.
It is shot by Leo F Tover, produced by Walter Mirisch and David Weisbart, scored by Hans J Salter and designed by Mal Bert.
Douglas directed Frank Sinatra in Young at Heart (1954) and The Detective (1968), and Elvis Presley in Follow That Dream (1962), making him the only film-maker to have directed both Sinatra and Presley.
© Derek Winnert 2018 Classic Movie Review 6551
Check out more reviews on http://derekwinnert.com