Florence Foster Jenkins **** (2016, Meryl Streep, Hugh Grant, Simon Helberg, Rebecca Ferguson) – Movie Review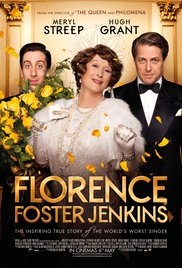 Stephen Frears's delectable and enchanting biopic tells the story of middle-aged New York socialite Florence Foster Jenkins, a woman who would never let a little thing like having a terrible singing voice get in the way of her dream to be a singer. 'We're artists, we'd rather go without bread than Mozart,' exclaims a woman who seems never to have gone without anything. It provides another perfect role for Meryl Streep, and she's perfect – camp, amusing and touching.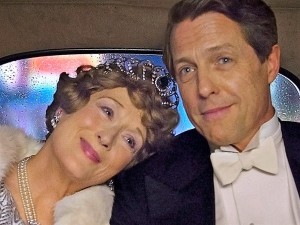 Florence Foster Jenkins the movie is fun and funny, though not the farcical film the trailer promises, and all the better for it as it gets inside FFJ's sad and deluded soul. The tragic thing is. she doesn't know she's got a terrible singing voice, and, when she fulfils her her dream by playing at New York's Carnegie Hall in the 1940s, she's going to find out that she's world's worst singer. And she's going to be devastated.
People have protected to her, and lied to her, colluded in her delusion, for years. This great lie is orchestrated by her English younger second husband, St Clair Bayfield, who does really love her, apparently, attending her most every whim, but is two-timing her with the much-younger Kathleen (Rebecca Ferguson). There is only one other role of significance in the movie, FFJ's new young pianist, Cosme McMoon (Simon Helberg from The Big Bang Theory).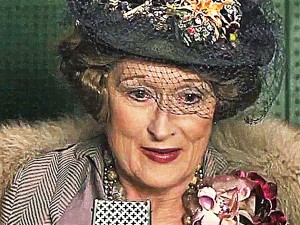 St Clair Bayfield provides a perfect role for Hugh Grant, and he's perfect too – brisk, amusing and touching. In some ways, he's even better than Streep. It's the film's standout performance, and his best work for ages, maturing into an old star character actor. Helberg, on the other hand, starts off very shakily, camp and giggly. You think you aren't going to like him, but then by half way through the film he's calmed down, and you start to take to him, and by the end, he's appealing. Ferguson makes no impression at all, and that's because he part is a cypher. They haven't bothered to give her a role.
[Spoiler alert] When she announces to Bayfield that she can't go on like this, and threatens to split if he does that, you don't care, and that's because the writer doesn't, and doesn't bother to make Bayfield seem at all bothered either. This is a script flaw, along with the creating only three characters in the piece. It could easily be a three-hander stage show – my, it would make a great one!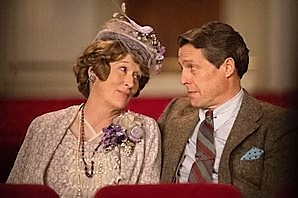 First-time screen-writer Nicholas Martin, a long-term TV graduate, makes a good job of many aspects of the script. He has revealed that there was endless re-writing, and that's good, but also that last-minute jitters after test screenings led to recutting and re-shooting to make Grant's character more sympathetic. That is another flaw.
I'd prefer to see the movie with the original script that kept us in the dark over whether Bayfield was a cheap huckster manipulating FFJ for his own gain, only late on to reveal he was actually the loving good guy protector he pretended to be. This would give the movie a dark edge it doesn't have now. It is a very good film, but it's a little bit too cosy, and, with a dark edge, it could have been a great film.
A word of warning that, incomprehensibly, the two stars are photographed really unkindly in the harshest of lights in a way that probably won't appeal to their fans. Do we really have to see every wrinkle and blemish on these older stars' great faces? However, the production, incidentally, is superb, with all the period artefacts in place, though there are many times when it doesn't like like New York, and that's because it was filmed in Liverpool and Glasgow, and generally very expertly CGI-ed.
Hugh Grant won Best Actor for his role as St Clair Bayfield at the 2016 Evening Standard British Film Awards.
The film was nominated for two Oscars. Meryl Streep was nominated as Best Actress in her 20th Oscar nomination, the most ever for a performer. Consolata Boyle was nominated for Best Costume Design. It won the Bafta award for Best Make Up/Hair (J Roy Helland, Daniel Phillips).
© Derek Winnert 2016 Movie Review
Check out more reviews on derekwinnert.com