Flipper ** (1996, Elijah Wood, Paul Hogan) – Classic Movie Review 3901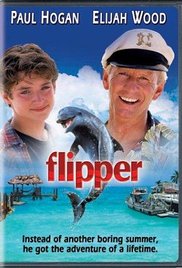 Director James B Clark's 1963 children's movie Flipper is remade by writer-director Alan Shapiro in 1996 with Elijah Wood and Paul Hogan to mild effect. Everything is brisk, businesslike and professional but just none too ecxiting.
Elijah Wood stars as a bored city teenager who comes to Florida in summer to be looked after by his crusty but caring uncle, an old sea-dog, played by Hogan in a near variant of his Crocodile Dundee turn. Soon Wood is befriended by a cute dolphin he calls Flipper, and together they see off bad guys who are trying to kill the local dolphin population and dump toxic waste in the sea.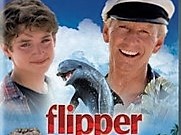 Flipper is cosy, too tame, none too compelling kids' stuff, with lots of dreary talk to bore the children and nothing to keep cynical adults amused. The clean-as-a-whistle script, based on the original 1963 movie's screenplay by Arthur Weiss, seems very dated and dull, almost entirely lacking urgency, suspense, danger, real action or witty humour, so it doesn't really work in the Nineties.
The dark-haired Wood, playing Sandy from Chicago in a series of spotlessly-new T-shirts, and a considerably aged Hogan with an unexplained Aussie accent, carry on like the reliable, practised professionals they are. The dolphins, however, too often look fake, as though they are models or animatronics (which indeed sometimes they are). And, for an outdoor movie (mostly made in the Bahamas), some of the filming looks curiously set bound or aquarium bound.
Also in the cast are Isaac Hayes, Chelsea Field, Jason Fuchs, Jessica Wesson, Luke Halpin and Jonathan Banks.
© Derek Winnert 2016 Classic Movie Review 3901
Check out more reviews on: derekwinnert.com