Five Star Final **** (1931, Edward G Robinson, H B Warner, Marian Marsh, Anthony Bushell, George E Stone, Boris Karloff) – Classic Movie Review 5620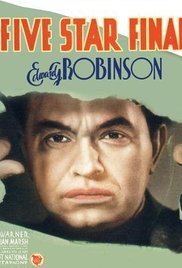 Director Mervyn LeRoy's sterling vintage 1931 newspaper drama stars Edward G Robinson, who is superb as Randall, the tough editor of a sleazy New York tabloid who ruthlessly manipulates people and stories to increase circulation at the command of his ruthless publisher. Nothing new there then!
The drama comes from the frantic scenes in the newspaper's offices and the central story in which the editor cynically resurrects the 20-year old Vorhees murder case with tragic results. Randall assigns the alcoholic, unprincipled reporter Isopod to dig the dirt and he wheedles his way into the Vorhees home masquerading as a minister to get his exposé.
All that goes very well, but, when the film goes for tearful human interest, LeRoy's direction becomes awkward and Robert Lord and Byron Morgan's otherwise sharp screenplay unfortunately turns to slush.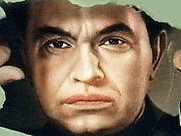 Boris Karloff scores strongly as the unscrupulous reporter called Isopod, and Oscar Apfel relishes his role as Hinchcliffe, the ruthless publisher of a sleazy New York tabloid. But Frances Starr and H B Warner overact embarrassingly as a victimised couple, dating their part of the film badly.
Nonetheless, even with the early sound techniques and some of the performances holding the movie back, it is a most entertaining archetypal movie of its kind.
Louis Weitzenkorn's source play was remade by the ever resourceful Warner Bros as Two Against the World in 1936 with Humphrey Bogart.
Also in the cast are Marian Marsh, Anthony Bushell, Ona Munson, Aline MacMahon, Purnell Pratt and Robert Elliott.
It runs 90 minutes, is released by Warner Bros, is shot n black and white by Sol Polito, is produced by Robert Lord and is score by Leo F Forbstein.
© Derek Winnert 2017 Classic Movie Review 5620
Check out more reviews on http://derekwinnert.com