Fists in the Pocket [I Pugni in Tasca] **** (1965, Lou Castel, Paola Pitagora, Liliana Gerace, Marino Masé) – Classic Movie Review 4457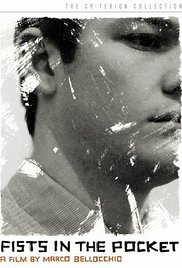 In a small provincial Italian town, a blind widow (Liliana Gerace) lives with her four children, a sister and three brothers, three of whom are bound by their epilepsy, putting the family under constant tension and frustration.
Director Marco Bellocchio's most confident and promising 1965 film debut, made when he was only 25, is a morbid psychological study of Alessandro (Lou Castel), a young epileptic man with paranoid inclinations, who starts murdering his bourgeois family of epileptics to help his 'normal' brother, the eldest son Augusto (Marino Masé), who has a conventional job and fiancée. Paola Pitagora plays the epileptic sister, Giulia, with Pier Luigi Troglio as epileptic brother Leone.
It is a most striking, disturbing film, made with great gusto and visceral power by Bellocchio, and acted with malignant relish by Castel. The discordant, troubling Ennio Morricone score is highly effective, with Alberto Marrama's black and white cinematography notable too.
The print was restored by the British Film Institute in 1996 and the film re-released to great acclaim.
It runs 113 minutes but the cut US version runs only 105 minutes.
Bellocchio says: 'The epilepsy meant all the frustration, all the troubles and weaknesses found in the young. I tried to treat the subject as objectively and ironically as possible.'
Also in the cast are Jennie MacNeil, Mauro Martini, Gianni Schicchi, Alfredo Filippazzi and Gianfranco Cella.
More than 50 years later, Bellocchio has a new film out, Sweet Dreams [Fai bei sogni] (2016).
© Derek Winnert 2016 Classic Movie Review 4457
Check out more reviews on http://derekwinnert.com