Firestarter *** (1984, Drew Barrymore, David Keith, Heather Locklear, George C Scott, Martin Sheen, Art Carney, Freddie Jones, Louise Fletcher) – Classic Movie Review 6012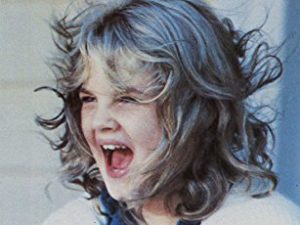 Drew Barrymore stars in a career-starter early horror role as a precocious eight-year-old little girl called 'Charlie' McGee, who can ignite objects with just a glance. David Keith also stars as her dad 'Andy' McGee, who is trying to protect her from the US government agent bad guys out to find or destroy her.
The idea is that Charlie's dad and mom 'Vicky' (Heather Locklear) first met when they took part as guinea pigs in some mysterious college medical experiment to get telekinetic abilities. Later they marry and find their daughter Charlie is pyrokinetic.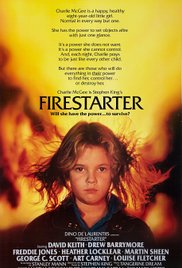 Director Mark L Lester and producer Frank Capra Jr's 1984 creepy child/ telekinesis film is a commendably creepy, scary and suspenseful horror movie, well adapted in a strong screenplay by Stanley Mann from a Stephen King novel.
There is a bunch of good stars and excellent handling by Lester to recommend it, and even better cinematography (Giuseppe Ruzzolini), score (Tangerine Dream), stunts and trick work as well.
The star cast also include: George C Scott, Martin Sheen, Art Carney, Freddie Jones, Louise Fletcher, Moses Gunn, Antonio Fargas, Drew Synder, Jeff Ramsey and Richard [Dick] Worlock.
It was fairly popular but not a big hit: costing $15,000,000, it took $15,100,000 back in the US.
It is made by the Dino De Laurentiis Company and released by Universal Pictures.
Firestarter 2: Rekindled followed belatedly in 2002.
Other films of this era along these lines include Carrie (1976), Patrick (1978), Zapped! (1982), Scanners (1981), Modern Problems (1981) The Fury (1978), and The Medusa Touch (1978).
© Derek Winnert 2017 Classic Movie Review 6012
Check out more reviews on http://derekwinnert.com