Fire at Sea [Fuocoammare] *** (2016, Samuele Caruana, Pietro Bartolo, Maria Costa, Mattias Cucina) – Movie Review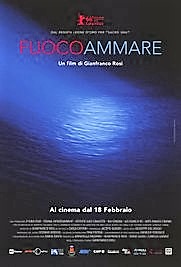 Writer-cinematographer-director Gianfranco Rosi captures life and death on the Italian Sicilian island of Lampedusa, which finds itself on the frontline in the European migrant crisis. Rosi won the 2016 Golden Berlin Bear award for his heart-on-sleeve documentary, highlighting the tragedy that more than 17,000 African and Middle Eastern people have died trying to cross the Mediterranean in the last 15 years, 1000 only in the last month.
Heartbreaking scenes of maritime rescue and recovery of bodies tell their own terrible tragic story. These scenes are devastatingly powerful, unforgettably upsetting. How did Rosi get access like this? He spent a whole year on the island to achieve this footage. This is thoughtful, important cinema, with vital footage, a step-up-to-the-mark responsible response to highlight a crisis, and possibly make a difference.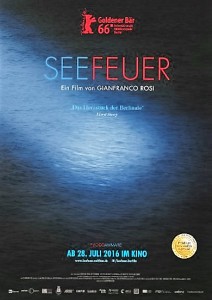 But Rosi gets involved in the story of a Lampedusa boy, Samuele, and his need to make slingshots to shoot stones at birds. A little of this goes a long way and there is a lot of it. The point seems obvious, and once it's made, let's move on. But Rosi lingers, gets stuck and bogged down. He even lets the boy have the film's last word.
When Rosi finally tears himself away from the kid, there's equally frustrating time with the boy's fisherman dad, and his mum, making a bed for heaven's sake, and at a snail's pace, to the accompaniment of opera. The footage with the DJ is OK but it just seems a device to add music and commentary.
All of this seems totally staged, with real people acting as themselves, giving performances, however naturalistic. He seems a bit out of his depth trying in this way to capture the flavour and character of Lampedusa, a small island with few people – just 6,000 – bewildered by their place in this history.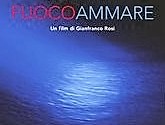 The time with the generous-hearted local doctor is well spent, however. He is a valuable witness, a great spokesman for the cause of humanity and doing the right thing. He is the real deal, hopefully the real Lampedusa. A documentary of his life would be fascinating.
Fire at Sea [Fuocoammare] ends up a respectful, poetic documentary highlighting a crisis that many would like to forget about. Alas, it offers few facts and no solutions. but its humanity and compassion are strong and powerful.
The London Film Critics' Circle voted it Documentary of the Year.
© Derek Winnert 2016 Movie Review
Check out more reviews on http://derekwinnert.com