Finding Neverland – Classic Film Review 124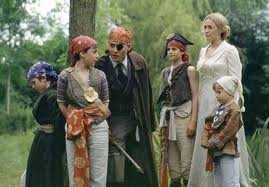 Enter, stage left, Johnny Depp, with a short haircut and a lilting Scots brogue, as unhappily married playwright James M Barrie, whose latest play is a flop. Enter, stage right, Kate Winslet, a posh young widowed mum called Sylvia Llewelyn Davies, with a brood of four boys. Next day, they encounter Depp's Mr Barrie in the park, inspiring him to write a play that will live forever.
As he befriends the troubled family, the youngest boy (Freddie Highmore) becomes the model for Peter Pan, though, when the play is eventually staged to rapturous acclaim, the boy points out that it is Uncle James who is really Peter.
The ever-adventurous Mr Depp gives one of his most enthralling performances in this splendid 2004 film, an enchanting reflection on life, love and death. Though based on a play by Allan Knee, it seems entirely a seamlessly smooth work of cinema thanks to the capable screenplay of David Magee and polished direction of Marc Foster (Quantum of Solace, World War Z).
Depp's job here is all the more tricky in that it is smoulderingly intense but low-key and he has to sustain a foreign accent throughout. He's fully up for it. And he gets sustained support from Winslet, Julie Christie as her snooty, icy mother, Radha Mitchell as his bored wife and Dustin Hoffman as his struggling producer.
Sentimentality is always about to bring the curtain down on this delicate show, but these canny people concerned always know when to cut a scene short. With several big tear-in-the-eye moments, this is a magical trip to Neverland, delving sweetly and delicately into the joys and pains of childhood in an age of imagination and innocence.
The portrayal of Barrie's life infuriated his family, who accused the makers Miramax of 'fictionally retelling it'. Elton John's song 'Peter's Song' was removed from the end credits, apparently at the request of Depp.
It's entirely suitable for children, though they would have to cope with some mild language and adult themes.
(C) Derek Winnert 2013 Classic Film Review derekwinnert.com