Finding Nemo ***** (2003, voices of Albert Brooks, Ellen DeGeneres, Alexander Gould) – Classic Movie Review 123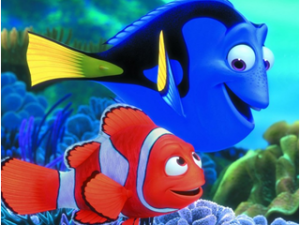 Directed by Andrew Stanton (with Lee Unkrich), this totally witty and delightful 2003 animation is one of the very best from Pixar studios, who made Toy Story and Monsters Inc. And it's at least the equal of either of them. Stanton won the 2003 Oscar for Best Animated Feature.
In the original screen story by Stanton, who also co-writes the screenplay, the nervy, over-protective Aussie clownfish Marlin (voice of Albert Brooks) swims off to find his only surviving son Nemo (Alexander Gould), who's misbehaved and gone off into the ocean beyond the Great Barrier Reef. Disaster strikes. Nemo's caught by a boat, brought up in a net and taken to live in a fish tank in the office of a dentist (Bill Hunter) by the harbour in Sydney, Australia.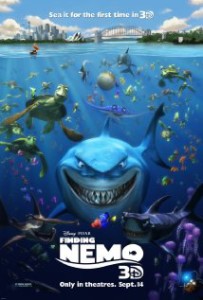 While Nemo's awash in a sea of trouble, Ellen DeGeneres's wacky blue fish Dory is there to help Marlin out in his life-saving quest. The two encounter and must overcome dangers from a group of humorously scary sharks (Eric Bana, Barry Humphries, Bruce Spence as Anchor, Bruce and Chum), as well as seagulls, jellyfish etc on their way. Meanwhile, Nemo and his new pals in the dentist's fish tank try to get to Sydney harbour and back to freedom in the sea.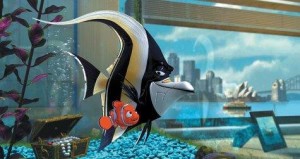 This splashy, colourfully designed and exquisitely characterised mega-hit just dives deep into one funny situation after another and floats in gallons of cute charm. They've made a lovely, painstaking job of capturing the look of the sea and the fishes, so the visuals are outstanding.
All the vocal performances of the many characters, however small, provide magic little moments, with DeGeneres's turn outstanding: Willem Dafoe provides the voice of Gill, with Brad Garrett as Bloat, Allison Janney as Peach, Austin Pendleton as Gurgle, Stephen Root as Bubbles and Geoffrey Rush as Nigel.
It's all jollied along very nicely indeed by Thomas Newman's catchy score. You just must sea this one!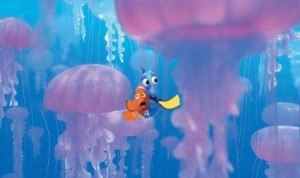 Though costly to make at nearly $100million, it was a huge money-spinner, taking an astounding $380million in America. Stanton provides the voice of Crush. John Ratzenberger, who features in every Pixar movie, is the voice of Fish School.
The DVD has deleted scenes, a 'making of' documentary, a visual commentary, a tour of the studios, virtual aquariums and a view from the artists.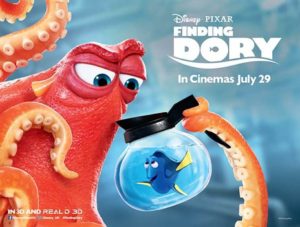 It was re-released in 3D in 2012. A long-awaited sequel, Finding Dory, was premiered in LA on 8 June 2016 and released in the US on 17 June 2016 and the UK on 29 July.
© Derek Winnert 2013 Classic Movie Review 123
Check out more reviews on http://derekwinnert.com